Description
Saddle Ridge H2, also known as the Bear's Lair Chalet, sits on the slope with true ski-in/ski-out access and unbeatable Lone Peak Views!! This luxury slopeside Saddle Ridge has rustic hardwood floors, granite counters and stainless steel appliances, plenty of seating in the living room along with outdoor seating and a gas grill on the deck. With TV's in every room, a king bed in the master suite, and a private outdoor hot tub with some of the best views in all of Big Sky, the Bear's Lair Chalet is the place to be for your home away from home.

Jump on the slopes on a Powder Day from this mid-mountain location and beat everyone that is boarding a lift from the base areas. More fresh powder for you!! AND, you can easily ski back to your door for lunch or a quick cup of hot chocolate. Enjoy an afternoon or evening soak in the slope side hot tub as you enjoy a beverage of your choice and just relax with friends or family.

This 3 bedroom unit has a master suite on the top level with king bed, flat screen TV, and private bath. There is also a twin sleeping loft in the master bedroom, perfect for a child that wants to be near mom and dad or for an additional twin bed for those that need an extra bed. Bedrooms 2 and 3 are both located on the lower level with a full bath on the hallway. Bedroom 2 has a queen bed and flat screen TV and walks out to the 6 person private outdoor hot tub and breathtaking views. Bedroom 3 has a queen bed and a twin bed, as well as, spectacular mountain views.

The laundry room, with full size washer/dryer, is located 1/2 flight of stairs down from Bedroom 2 and 3. We provide all laundry detergent and fabric softener.

There is parking for 2 cars directly in front of the front door, along with private ski racks on the front porch. It is so easy to unload bags and groceries or hop in the car for a quick outing or delicious dinner.

- NFL Sunday Ticket Included with Direct TV package

* The Moonlight Club/ Moonlight Lodge is private and permanently closed to all rental guests.

** Big Sky Resort officially opens each year for the winter and snow skiing season on Thanksgiving Day. Please note, this property is ski-in/ski-out via the Iron Horse and Pony Express lifts from mid-December to mid-April. Those 2 lifts typically open the 2nd weekend in December and close in mid-April. All lift operations are snow dependent and operated completely at Big Sky Resort's discretion. If the Pony Express and Iron Horse lifts are not running for any reason during your stay, you can either take the free local shuttle from Saddle Ridge or drive to/from the Big Sky Mountain Village to ski, which is less than 2 miles away.
More Amenities
Beds | Baths:
Sleeps 8 in beds, including twin sleeping loft in master bedroom
Bedroom 1- King bed | private bath, tub/shower | flat screen TV | upper level
Bedroom 2- Queen bed | flat screen TV | lower level
Bedroom 3- Queen bed, twin bed | flat screen TV | lower level
Full Bath off of Downstairs Hallway | shower | lower level
Half Bath on Main level

Sheets and Towels Provided
* Extra towels under all bathroom sinks
_______________________________________________________________________________________________________
Kitchen | Dining:
Granite Counters
Stainless Steel Appliances
Ice Maker
Coffee maker + Keurig
Toaster
Hand mixer
Electric griddle
Crock pot
Roasting pan
Cookware/Bakeware
Salt and pepper
All kitchen utensils
Dining table seats 6
Bar seating for 4
_______________________________________________________________________________________________________
Living Room:
Gas fireplace
55 inch flat screen TV
Bose SoundBar with Bluetooth
_______________________________________________________________________________________________________
Supplies provided in unit:
Kitchen bags
Dishwasher tabs
Dish liquid
Coffee filters (coffee not provided)
Sponge (1 new)
Toilet paper (3 rolls per bathroom)
Paper towels (3 rolls)
Tissue
Laundry detergent
Dryer sheets
Bath soap
_______________________________________________________________________________________________________
Additional Amenities:
Sleds for afternoon fun in the winter
Ski racks on front porch
Fans and humidifiers in each bedroom
Board games, puzzles
_______________________________________________________________________________________________________
Outdoor Features:
Private hot tub 6 person- on back deck with Lone Peak/slopes view
Deck with outdoor seating (table and chairs)
Propane grill with propane provided
Parking for 2 vehicles directly in front of this unit
_______________________________________________________________________________________________________
House Rules:
No smoking permitted
No pets permitted
_______________________________________________________________________________________________________
Other options available upon request:
Pack n play
Highchair/booster seat
Calendar
Oct - 2023
S
M
T
W
T
F
S

1

2

3

4

5

6

7

8

9

10

11

12

13

14

15

16

17

18

19

20

21

22

23

24

25

26

27

28

29

30

31
Nov - 2023
S
M
T
W
T
F
S

1

2

3

4

5

6

7

8

9

10

11

12

13

14

15

16

17

18

19

20

21

22

23

24

25

26

27

28

29

30
Dec - 2023
S
M
T
W
T
F
S

1

2

3

4

5

6

7

8

9

10

11

12

13

14

15

16

17

18

19

20

21

22

23

24

25

26

27

28

29

30

31
Jan - 2024
S
M
T
W
T
F
S

1

2

3

4

5

6

7

8

9

10

11

12

13

14

15

16

17

18

19

20

21

22

23

24

25

26

27

28

29

30

31
Feb - 2024
S
M
T
W
T
F
S

1

2

3

4

5

6

7

8

9

10

11

12

13

14

15

16

17

18

19

20

21

22

23

24

25

26

27

28

29
Mar - 2024
S
M
T
W
T
F
S

1

2

3

4

5

6

7

8

9

10

11

12

13

14

15

16

17

18

19

20

21

22

23

24

25

26

27

28

29

30

31
Apr - 2024
S
M
T
W
T
F
S

1

2

3

4

5

6

7

8

9

10

11

12

13

14

15

16

17

18

19

20

21

22

23

24

25

26

27

28

29

30
May - 2024
S
M
T
W
T
F
S

1

2

3

4

5

6

7

8

9

10

11

12

13

14

15

16

17

18

19

20

21

22

23

24

25

26

27

28

29

30

31
Floor Plan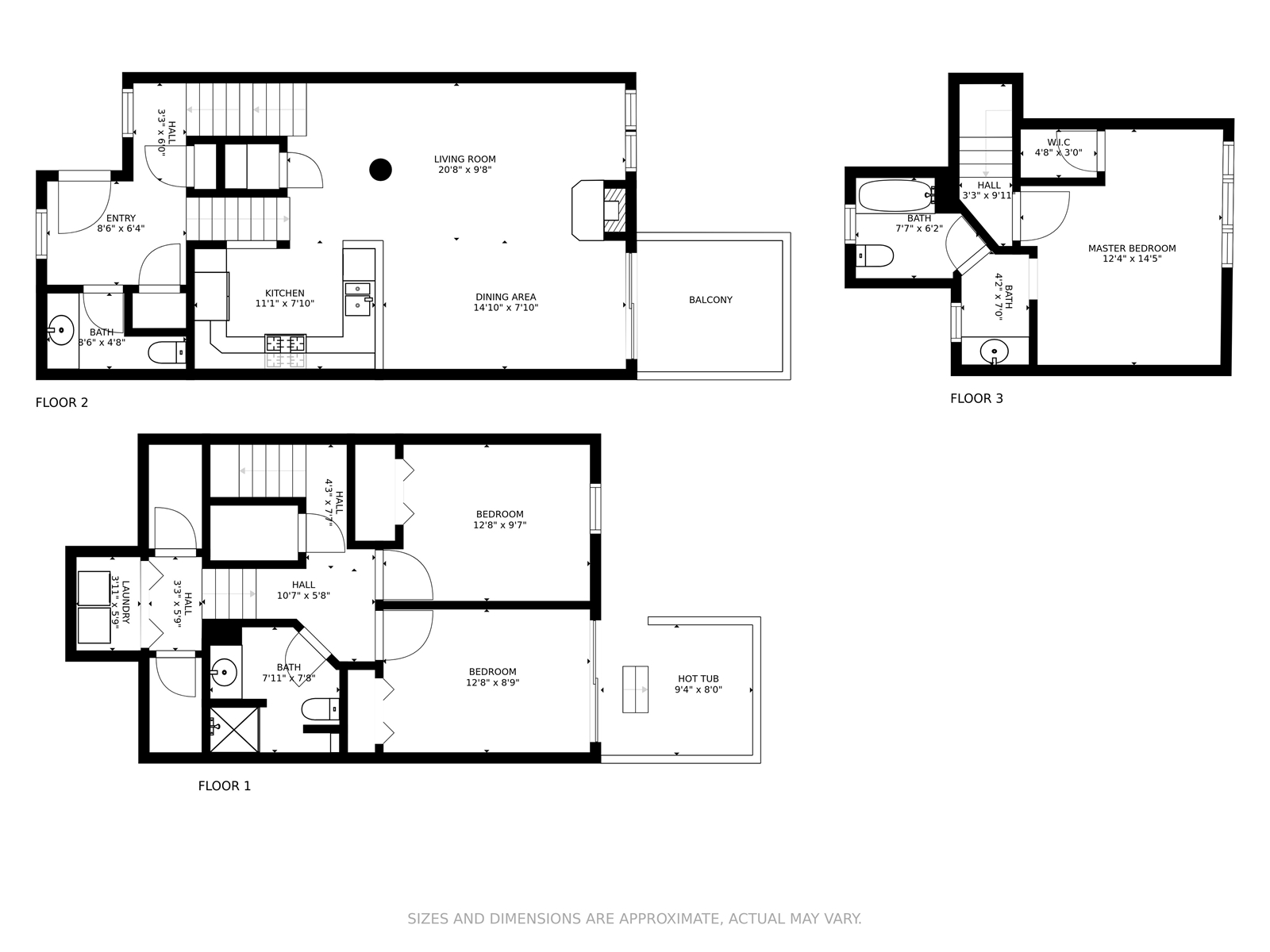 Reviews
Page: 1 of 3
Property
Very appealing place. Would consider returning sometime.
Property
Best Mountain Experience Ever! I would give this property a 10 out of 10! It had everything you could ever need for the best mountain vacation ever including stunning views and a grill so you can cook while enjoying the view. We will definitely book again on our next trip to Big Sky!
Property
Another great stay at Big Sky for my family and friends. The Saddle Ridge condos are the hidden gem of Big Sky for family living space, easy access / true ski-in-ski out and great views. I only hope my son (who lives in Bozeman) continues buying his Big Sky season pass so our annual April ritual of vacationing in April continues for years to come.
Property
Markmans from Minnesota! We were very happy. Full kitchen inventories for family meals. Location on hill ver accessory to lifts and hills. Instructions in manual were very helpful. Gift basket of goodies much appreciated.
Property
No major complaints at all - clean and organized - nice location! Nice location - reasonably easy ski in ski out - appears well managed and well organized. Nice layout overall.
Property
A true ski in/ski out condo! The family greatly enjoyed the true ski in/out location, the hot tub, and the community. Big Sky is beautiful, cold, and dry in the wintertime, so the provided humidifiers were a very welcomed amenity! We also found the welcome basket to be a lovely surprise. The property managers provided timely and comprehensive communication before and during our stay.
Property
Our best vacation EVER! Excellent communication with owners and a beautiful and clean property!
Property
Perfect way to kick-off 2023! What a perfect location for our family ski vacations! The condo was an ideal base for skiing during the day and spending time together in the evenings. The access trail to the Pony Express life was super-convenient, even for our youngest skier. The condo was well equipped for cooking, and we really enjoyed the full game closet. Our three teenagers had ample space in the two downstairs bedrooms, and the master bed was comfortable and quiet! Finally, the private hot tub was the perfect way to warm up after a full day on the slopes. We loved staying here and hope to return next winter. Thank you!!
Property
Thank you for a lovely stay! Sue
Property
Great spot will book again
Property
The unit and its location were fantastic. It was convenient to the base for race (The Rut 50k) logistics and close and easy to get to spectator zones for the races. Check in was simple and easy and the unit had everything a group would need for a great stay.
Property
Big sky condo! Accommodations were perfect. Thank you.
Property
The Best Family Vacation Ever! The pictures do not do this property justice. It was beautiful and completely stocked with everything you need (except food). The hot tub was spotless. We had an incredible time and I highly recommend staying here!
Property
We had a great experience here in your unit and for sure we will be contacting you in our future travels to Big Sky.
Property
The condo was amazing & location was perfect. Acra was great to work with & made sure our stay was great. Fantastic trip & condo & location was perfect
Property
Senior Field trip. This was by far the nicest cabin we have ever stayed in. Everything was very clean. Location was great. Amenities were wonderful. They went above and beyond to make sure guests felt welcome. I would definitely recommend and would visit there again myself.
Property
A beautiful ski in / ski out condo - The view is truly amazing of the mountain! A great place to stay, excellent location, entire condo was 1st class, easy to connect with the property managers - we will be visiting again
Property
Fantastic property! Beautiful place and great views.
Property
Amazing stay at Saddle Ridge! We stayed at the Saddle Ridge condo for four nights. The condo was in excellent condition, and had all the amenitites needed for our trip. We used the hot tub daily, and it was clean and in working order. The gas grill worked for several dinners while we cooked in. The beds were all comfortable, and the linens were clean and updated. There isn't a thing I would change about this condo. The location is unreal, right on the ski lifts. We will be back!!!
Property
Fantastic! The property was great! Very clean and cozy. The welcome basket with snacks, wine, hand and toe warmers was much appreciated! We felt like we were staying at a friends house! Will definitely recommend to friends and stay with you all again.
Property
Great view, great ski in/ski out, great for families! This is the fifth time we have rented in the Moonlight area, the fourth a Saddleridge townhome (we love the ski in/ski out and the outdoor hot tub). This is the first we rented from Acra Samuels and her service outshone all the others. There was lots of communication, quick responses when I asked a question, there was detailed information on the property, and the best part was the detailed information on all the places surrounding the property, such as grocery stores, delivery restaurants, other winter activities outside of skiing, and more.
Property
Thank you again for the rental of Saddle Ridge H-2. We had a wonderful vacation with plenty of rest and relaxation. The beds were comfy...at the age of 60, I appreciate that!! The views are beautiful from that unit and I loved that the kitchen was well stocked with cooking utensils, spices, etc. It reminded me of when we rented our home out....I always left essential spices and common ingredients.
Property
Beautiful Place! We loved staying this beautiful condo in Big Sky. We love the area. Condo is beautifully appointed, with gorgeous views and convenient to everything. Hosts are very easy to communicate with and very kind. Highly recommend.
Property
Mountain Escape! We had a great stay in this townhome for our last week of online schooling. We loved exploring the trails around Moonlight Basin. The Village is a short 5 minute ride from the home to pick up groceries and dining and of course the ride on 6-Shooter to the top. The home is well furnished with kitchen supplies which is unsual for rentals. We look forward to renting from Acra again!!
Property
We had a fabulous time at your home. Everything was as advertised and then some. We were so comfortable we didnt want to leave. The weather was perfect and we were able to hike everyday. Wish we couldve stayed another week. We will definitely be back.