Description
Nestled in the heart of Moonlight Basin - the "Champagne Chalet" - Saddle Ridge U2 has it all. With excellent ski-in/ski-out and breathtaking views, this is the perfect location to escape and rejuvenate. Hike from the door all summer or ski 'til you drop all winter. Come home for a quick lunch or cup of hot chocolate and at the end of the day relax in your private outdoor hot tub.

Enjoy lots of upgrades and amenities, including granite countertops, stainless steel appliances, hardwood floors, Smart TV's, large outdoor hot tub, private 1 car garage, groomed slope directly adjacent to the back door, and lots more!!

This fantastic Saddle Ridge end unit is 3 levels, with amazing ski-in/ski-out access and views. The main level consists of the living room, dining room, gas fireplace, and large open kitchen, as well as a double deck with gas grill and outdoor seating.

Saddle Ridge U2 offers plenty of space and privacy for everyone. The large master suite with king bed and private bath are located downstairs on the lower level and walk out to the private outdoor hot tub. Bedroom suite 2 is also on the lower level, with twin over full bunk bed and private bath. The 3rd bedroom suite is located on the upper level with king bed and private bath. The half bath is just off the entryway and large open foyer.

The full sized washer/dryer is located on the lowest level, with laundry detergent and fabric softener provided.

The Moonlight Club is PERMANENTLY CLOSED to All Rental Guests.
- Please note, we manage the properties on this website, but we do NOT manage the Moonlight Club.

** Big Sky Resort officially opens each year for the winter and snow skiing season on Thanksgiving Day. Please note, this property is ski-in/ski-out via the Iron Horse and Pony Express lifts from mid-December to mid-April. Those 2 lifts typically open the 2nd weekend in December and close in mid-April. All lift operations are snow dependent and operated completely at Big Sky Resort's discretion. If the Pony Express and Iron Horse lifts are not running for any reason during your stay, you can either take the free local shuttle from Saddle Ridge or drive to/from the Big Sky Mountain Village to ski, which is less than 2 miles away.
Map
More Amenities
Beds | Baths:
Sleeps 7 in beds
Bedroom 1- King bed | private bath, tub/shower | Smart TV | lower level
Bedroom 2- Twin over full bunk bed | private bath, shower | Smart TV | lower level
Bedroom 3- King bed | private bath, shower | Smart TV | upper level
Half Bath on Main level

Sheets and Towels Provided
* Extra towels under all bathroom sinks
_______________________________________________________________________________________________________
Kitchen | Dining:
Granite Counters
Stainless Steel Appliances
Ice Maker
Coffee maker
Toaster
Hand mixer
Electric griddle
Crock pot
Roasting pan
Cookware/Bakeware
Salt and pepper
All kitchen utensils
Dining table seats 6-8
_______________________________________________________________________________________________________
Living Room:
Gas fireplace
50 inch flat screen TV
_______________________________________________________________________________________________________
Supplies provided in unit:
Kitchen bags
Dishwasher tabs
Dish liquid
Coffee filters (coffee not provided)
Sponge (1 new)
Toilet paper (3 rolls per bathroom)
Paper towels (3 rolls)
Tissue
Laundry detergent
Dryer sheets
Bath soap
_______________________________________________________________________________________________________
Additional Amenities:
Sleds for afternoon fun in the winter
Ski racks
Fans and humidifiers in each bedroom
_______________________________________________________________________________________________________
Outdoor Features:
Private hot tub 6 person- on back deck with Lone Peak/slopes view
Large upper deck with outdoor seating
Propane grill with propane provided
Parking for 2 vehicles or 1 car detached garage
_______________________________________________________________________________________________________
House Rules:
No smoking permitted
No pets permitted
_______________________________________________________________________________________________________
Other options available upon request:
Pack n play
Highchair/booster seat
Calendar
Apr - 2023
S
M
T
W
T
F
S

1

2

3

4

5

6

7

8

9

10

11

12

13

14

15

16

17

18

19

20

21

22

23

24

25

26

27

28

29

30
May - 2023
S
M
T
W
T
F
S

1

2

3

4

5

6

7

8

9

10

11

12

13

14

15

16

17

18

19

20

21

22

23

24

25

26

27

28

29

30

31
Jun - 2023
S
M
T
W
T
F
S

1

2

3

4

5

6

7

8

9

10

11

12

13

14

15

16

17

18

19

20

21

22

23

24

25

26

27

28

29

30
Jul - 2023
S
M
T
W
T
F
S

1

2

3

4

5

6

7

8

9

10

11

12

13

14

15

16

17

18

19

20

21

22

23

24

25

26

27

28

29

30

31
Aug - 2023
S
M
T
W
T
F
S

1

2

3

4

5

6

7

8

9

10

11

12

13

14

15

16

17

18

19

20

21

22

23

24

25

26

27

28

29

30

31
Sep - 2023
S
M
T
W
T
F
S

1

2

3

4

5

6

7

8

9

10

11

12

13

14

15

16

17

18

19

20

21

22

23

24

25

26

27

28

29

30
Oct - 2023
S
M
T
W
T
F
S

1

2

3

4

5

6

7

8

9

10

11

12

13

14

15

16

17

18

19

20

21

22

23

24

25

26

27

28

29

30

31
Nov - 2023
S
M
T
W
T
F
S

1

2

3

4

5

6

7

8

9

10

11

12

13

14

15

16

17

18

19

20

21

22

23

24

25

26

27

28

29

30
Floor Plan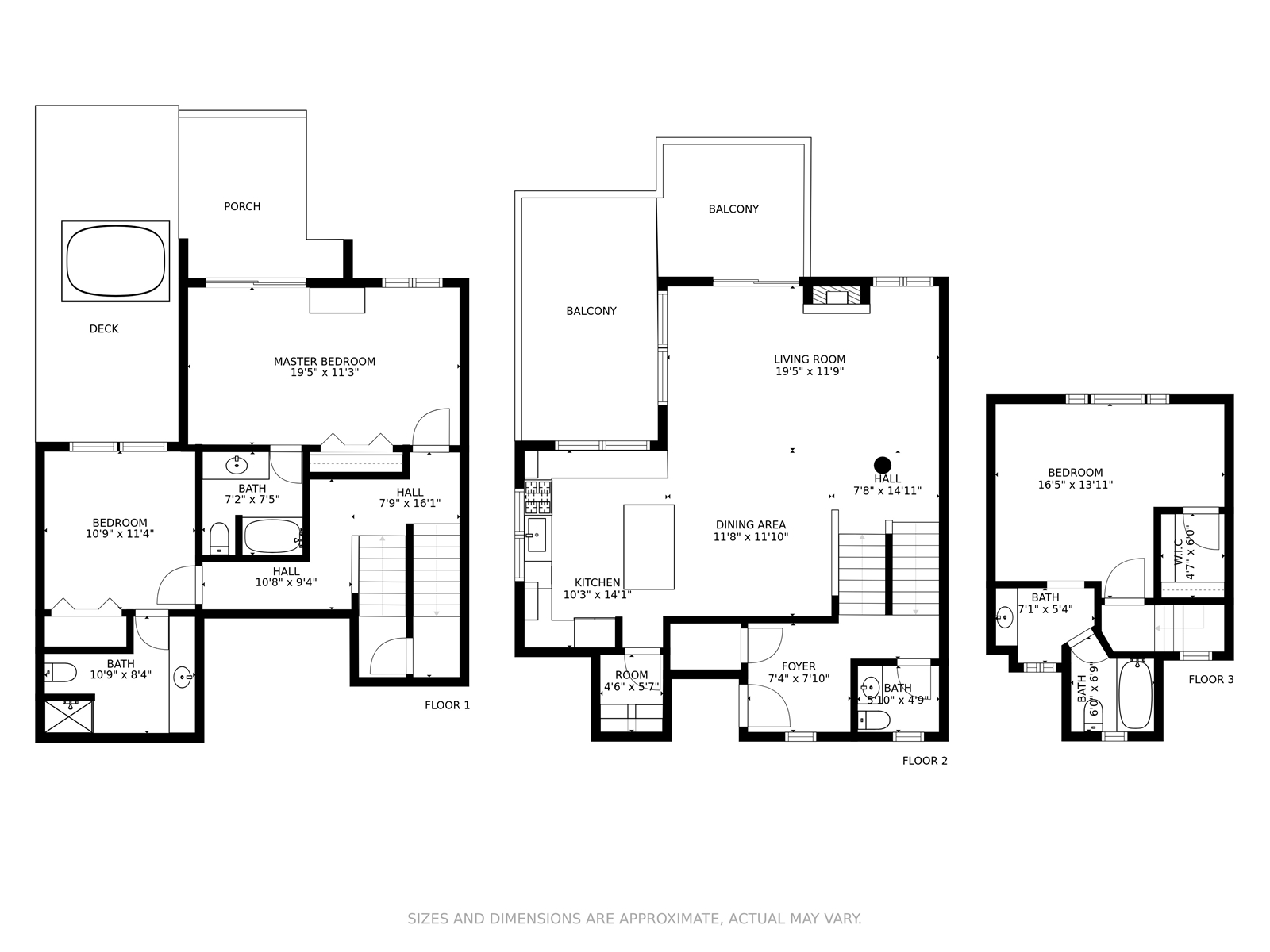 Reviews
Property
The townhouse was as described, it was very comfortable, with a well stocked kitchen. We really loved being able to ski in and out to Pony Express lift, the views across the valley to the ski mountain were amazing, and the welcome basket was a very nice touch. We will be back!
Property
My wife and I have rented ski condo's through out the US and Canada for the last three decades. Not all ski in/out but usually. This unit was the nicest and best equipped of all of them. Ski in/out was easy and allowed for lunch in the condo and a short rest. Management was very responsive and when a kitchen item was missing we wrote them and the next day it was there. The two "Master Bedrooms" were perfect for my wife and I and the other adult couple with us. The third BR I would not consider for an "adult" couple but more suited for younger people. However our 32 y/o son and his fiancee were fine with it. The kitchen was superb. The hot tub was clean and worked fine as you expect. A great week.
Property
Wonderful condo! We thoroughly enjoyed our stay at this spacious, clean and well furnished condo. The ski in/out was incredibly easy which made stopping back for lunch a breeze. We also loved the hot tub after a day of skiing. What a view! Communication about check in/out was very prompt and detailed and any questions we had (which were minimal) were answered promptly. We will definitely stay here again the next time we are back in Big Sky.
Property
Perfect for us. ... The place was immaculate and well stocked. Our family of six thoroughly enjoyed our stay there.
Property
Incredible Location and Views! Our group wanted to stay somewhere that would make it easy to split our time between Bozeman and Yellowstone, and this was it! The home is really beautiful, spacious, and evening dinners on the patio were something we all looked forward to very much. (The kitchen was incredibly well stocked with every kind of cooking pan, container, and utensils we could have ever needed, plus theres a grill). Also, deer come right up to the porch in the mornings and evenings, and it was lovely to see animals friends every day. The rooms are lovely, and the king sized bed was the most comfortable bed Ive ever slept in! 5/5 would recommend, and we will be back!
Property
BIG SKY! Great place. At the top of the mountain great view.
Property
Loved our stay! Property was lovely, well stocked and clean. Beds were very comfortable. Mgmt was very responsive when fire alarm was chirping. Fixed it right away! Well definitely be back!
Property
We had a wonderful stay! Thank you so much!!! Saddle Ridge U2 was an amazing rental and you made the rental process so smooth and easy. Thank you for your attention to details, comfort, and cleanliness!
Property
Amazing condo with great view and ski in/out! This condo will not disappoint. The communication with the property manager is exceptional. They provided regular updates with pertinent information leading up to arrival and then appropriate emails with check out reminders during our stay. The condo cleanliness was impeccable. It was very apparent that the property manager has maintained this condo. Numerous staple items were provided for the kitchen and various supplies. The quality of the kitchen appliances was great and the entire condo was furnished very nicely! And then the location and viewWow! Incredibly easy ski in/outwith the groomed trail to Pony Express literally off the back porch! Made skiing home for lunch very easy. And the view is beautiful. We also enjoyed the short walk to Moonlight Basin lodge to the bus stop to catch the Skyline Shuttle service to Mountain Village. Free shuttle service which made not having a car very easy! Great condo and looking forward to returning again next year!
Property
Great Big Sky home! This home was well suited for our family of five. It is close to the lifts and is ski-in/ski-out. It had a good room to organize our ski gear and a hot tub with a great view of the peaks. The property manager communicated well and took care of our special requests. We had a wonderful stay.