Description
This Cowboy Heaven Cabin ON the Powder River ski slope is a rare find. Don't miss the opportunity to ski-in/ski-out from you front porch and take in some of the best views in the Rocky Mountains from your private outdoor hot tub. You will know in an instant why it is called "The Gold Rush" Cabin. This cozy Cowboy Heaven cabin is loaded with upgrades throughout and nestled in Moonlight Basin with direct access to the best skiing on the mountain. You don't want to miss a spectacular vacation to this fantastic Cowboy Heaven gem. With 2 bedrooms/2 bathrooms + a loft for additional sleeping, this cabin is the perfect escape for a family vacation, a romantic getaway, or a trip with old friends.
The "Gold Rush" Cabin has 2 bedrooms and 2 full bathrooms + a large loft with a double bed and fabulous views!. Bedroom 1 has a king bed, full bath, and a flat screen TV. Bedroom 2 has 2 XL twin beds and a flat screen TV. The large loft has spectacular Lone Peak views and a double bed. There is a gas fireplace (stove) and large flatscreen TV in the large living room with rustic hardwood floors, leather sofa and chair + views, views, and more amazing mountain views. The fully loaded kitchen is equipped with granite counters, Wolf and SubZero stainless steel appliances, and plenty of cabinet space. The kitchen opens to the dining area and living room and is stocked with plenty of pots, pans, and cooking utensils for every occassion.
There is parking directly next to the cabin.
Also, we rent the cabin next door to this one (
The Alpine Escape
), so if you need multiple cabins or have 2 families, please let us know.
Don't miss the opportunity to be the envy of everyone on the mountain. Book this Cowboy Heaven "Gold Rush" cabin and escape to your next Outwest Adventure! Contact us today.
* The Moonlight Club/ Moonlight Lodge is private and permanently closed to all rental guests.
** Big Sky Resort officially opens each year for the winter and snow skiing season on Thanksgiving Day. Please note, this property is ski-in/ski-out via the Iron Horse and Pony Express lifts from mid-December to mid-April. Those 2 lifts typically open the 2nd weekend in December and close in mid-April. All lift operations are snow dependent and operated completely at Big Sky Resort's discretion. If the Pony Express and Iron Horse lifts are not running for any reason during your stay, you can either take the free local shuttle from Saddle Ridge or drive to/from the Big Sky Mountain Village to ski, which is less than 2 miles away.
More Amenities
Beds | Baths:
Sleeps 6 in beds
Bedroom 1- King bed | private bath, slate shower | flat screen TV | main level
Bedroom 2- 2 XL Twin beds | flat screen TV | main level
Full Bath off of Hallway | slate tub/shower
Loft with Double Bed (must climb ladder to this room)

Sheets and Towels Provided
* Extra towels under all bathroom sinks
_______________________________________________________________________________________________________
Kitchen | Dining:
Granite Counters
Stainless Steel Appliances
Wolf - Gas Range
SubZero Refrigerator
Ice Maker
Toaster
Hand mixer
Crock pot
Roasting pan
Cookware/Bakeware
Salt and pepper
All kitchen utensils
Dining table seats 4+
_______________________________________________________________________________________________________
Living Room:
Gas Stove (controlled by thermostat on wall)
42 inch flat screen TV
_______________________________________________________________________________________________________
Supplies provided in cabin:
Kitchen bags
Dishwasher tabs
Dish liquid
Coffee filters (coffee not provided)
Sponge (1 new)
Toilet paper (3 rolls per bathroom)
Paper towels (3 rolls)
Tissue
Laundry detergent
Dryer sheets
Bath soap
_______________________________________________________________________________________________________
Additional Amenities:
Sled for afternoon fun in the winter
Fans and humidifiers in each bedroom
_______________________________________________________________________________________________________
Outdoor Features:
Private hot tub 4+ person- on front porch with views of Lone Peak, ski slopes and valley
Large Front porch with outdoor seating
Propane grill - propane provided
_______________________________________________________________________________________________________
House Rules:
No smoking permitted
No pets permitted
_______________________________________________________________________________________________________
Other options available upon request:
Pack n play
Highchair/booster seat
Calendar
Oct - 2023
S
M
T
W
T
F
S

1

2

3

4

5

6

7

8

9

10

11

12

13

14

15

16

17

18

19

20

21

22

23

24

25

26

27

28

29

30

31
Nov - 2023
S
M
T
W
T
F
S

1

2

3

4

5

6

7

8

9

10

11

12

13

14

15

16

17

18

19

20

21

22

23

24

25

26

27

28

29

30
Dec - 2023
S
M
T
W
T
F
S

1

2

3

4

5

6

7

8

9

10

11

12

13

14

15

16

17

18

19

20

21

22

23

24

25

26

27

28

29

30

31
Jan - 2024
S
M
T
W
T
F
S

1

2

3

4

5

6

7

8

9

10

11

12

13

14

15

16

17

18

19

20

21

22

23

24

25

26

27

28

29

30

31
Feb - 2024
S
M
T
W
T
F
S

1

2

3

4

5

6

7

8

9

10

11

12

13

14

15

16

17

18

19

20

21

22

23

24

25

26

27

28

29
Mar - 2024
S
M
T
W
T
F
S

1

2

3

4

5

6

7

8

9

10

11

12

13

14

15

16

17

18

19

20

21

22

23

24

25

26

27

28

29

30

31
Apr - 2024
S
M
T
W
T
F
S

1

2

3

4

5

6

7

8

9

10

11

12

13

14

15

16

17

18

19

20

21

22

23

24

25

26

27

28

29

30
May - 2024
S
M
T
W
T
F
S

1

2

3

4

5

6

7

8

9

10

11

12

13

14

15

16

17

18

19

20

21

22

23

24

25

26

27

28

29

30

31
Floor Plan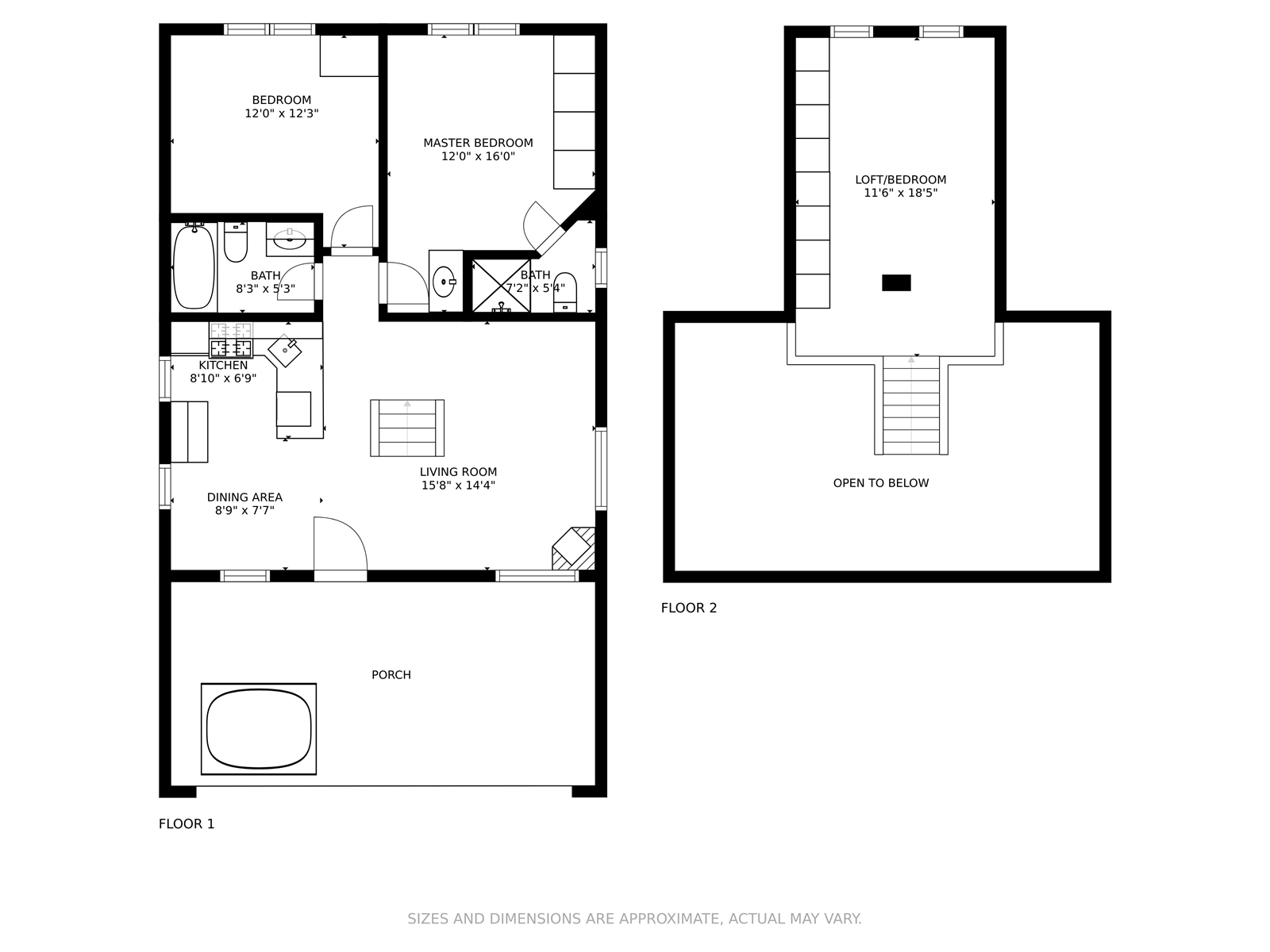 Reviews
Page: 1 of 2
Property
The process to rent and use the property was seamless and pain-free! We really enjoyed our stay and the amenities provided were top notch. I think the Gold Rush cabin we rented has the best views as well! We hope to visit Montana and vacation with you guys again soon!
Property
Excellent Property! There are so many things to love about this property. The views are spectacular, it's dark at night for fabulous star gazing, comfortable beds, spaces to spread out, lots of storage so your luggage can be hidden, great internet connectivity and every appliance we needed. The hosts are highly responsive. It is a 15-20 minute drive to most meal/grocery options, so you'll want to plan ahead. Beautiful daily drive to Yellowstone for our family. Highly recommend the premade meals at the Country Store at the bottom of the mountain. Nice staff, too!
Property
Great summer vacation at Cowboy Heaven cabin! My wife, two older teen children and myself just came back from a vacation in Big Sky, Montana. First, Big Ski is beautiful with lots of restaurants and lots to do. We went to a great Farmers Market downtown which was huge. Tons of food trucks and craft booths. The cabin is about 15 minutes from downtown, under and hour to Bozeman (also fun) and about an hour and fifteen minutes to Yellowstone so it is a great in between location. Incredible views of the mountains as well. Acra and Chris were awesome hosts and super responsive (not that we had much need to contact them). The cabin is comfortable, clean, well laid out and well appointed with high-end appliances (sub-zero, Viking). The beds are comfortable and the hot tub was well maintained and great to relax in (we have one at home and love it). The loft had an extra bed (very low ceiling so not for tall people). Likely good for slightly older children but we did not use it since there were only four of us. All in all, we were were extremely happy and really enjoyed the cabin and the trip- we just wish we had more time (we had spent a few initial days in Yellowstone and 4-5 days in Big Sky at the cabin). Thank you Acra and Chris for such a great stay! -John C & family (Mansfield, MA).
Property
Our stay at the Gold Rush was exceptional. The views are simply stunning, we enjoyed dinner almost every evening just looking out over the basin and the mountains. The proximity to the resort and the very quaint town of Big Sky was great, took a little getting used to but we enjoyed our trip up the mountain every timethe views never get old. Kitchen was ideally appointed for cooking, great appliances and cookware (I am buying a set when I get home). We even befriended a local fox who stopped by every day around 6pmyou dont get that in Miami! All in all, we had a delightful stay, and look forward to coming back during the winter for a different side of Montanas natural beauty. Five stars all around!
Property
First off thank you for letting us stay in your beautiful cabin. We had the best time!! The skiing was amazing north summit snow fields & the headwaters bowl for me, Horseshoe & Ice house for the kids and Julie were our favorite runs. Big Sky is a magical place every where we looked was so beautiful. We were able to do some dog sledding and took a trip through the enchanted forest! The cabin for our family was just right! Everything was in perfect working order. The hot tub after a day on the slopes was our go too. We enjoyed some nice quiet evenings and watched a few movies. I am pushing for the same week next year! Thank you again and I am looking forward to our next trip out to big sky. Next year I am hoping to bring my parents along. If I can get them on board I would be looking to rent one of your larger homes. Thank you be well and many blessings to your family.
Property
What a special place!! Can't say enough about the great experience. Acra and Chris were wonderful. The cabin, location, view are all top notch.
Property
Your place is perfect, thank you for letting us stay here! Everything we needed in the kitchen and the hot tub was perfect, just right for our family.
Property
Our stay was amazing. The cabin was very well equipped with everything you could need and more. When we arrived, the cabin was very clean. The views from the hot tub and front porch are breathtaking. The property managers were very nice to work with. We would not hesitate staying here again when we visit Big Sky.
Property
5 days in beautiful Big Sky! Gorgeous view with great location to hikes, the town, and everything else that makes Big Sky so amazing. This was a summer getaway and it was fabulous. No complaints.
Property
We loved the cabin, it was easy to see that the cabin has been very well maintained and continually freshened and updated and that makes a big difference. We stayed in a CH cabin last year that we rented through the resort and your unit felt much less tired. Obviously, the investment in creating the loft for an additional BR was a huge add to this property, made it usable for our group of 6 allowing all to sleep in a real bed instead of a pull out. In no particular order of importance, some of the things we found to be very pleasant amenities were: Updated Kitchen with new appliances, countertops and amenities. Especially nice was the lower drawer filled with misc stuff, duct tape and other hardware items, came in very handy a few times. An abundance of towels for showers and hot tubs, it was really nice to have 2-3-4 towels each for all 6 of us. We washed towel loads a few times during our stay but it was not an everyday requirement due to inventory. Laying it out with the master BR being the room with the extra shower. Last years cabin had the rooms reversed and your layout made much more sense. Also really liked the BR built ins and laundry set. Newer hot tub, better than average quality and large size. Digital lock on the door, no more fumbling for keys or trying to keep track of keys for everyone Location, this unit being at the end of the road right on the ski run was really great, spoiled us forever. We also appreciated the little note and goodie basket awaiting us upon arrival. You guys really do an exceptional job at property management and we will definitely come directly to you for any and all future return visits to Big Sky/Moonlight Basin. Thank you!
Property
This note is WAY overdue, but that is only a reflection of how nuts life has been for the past couple of weeks following a spectacular visit to Big Sky. I did want to reach out and let you know that your cabin was right up on the same level as the skiing - it was in part responsible for the trip being a huge success for my family (and me!). We loved Gold Rush, the views, the rooms, the well thought out layout, etc. I'm also not sure if there is a better place to hot tub in the U.S. than that deck. My family is already lobbying to do the same thing for the same week next year, so I would love to stay on your radar for those same dates. Let me know the best way to facilitate that. I look forward to working with you again.
Property
Great place! Well kept and easy run access.
Property
Perfect ski-in ski-out cabin! Property was as described and perfect for a family of 4. The accommodations were well maintained and appointed. We cooked in a few nights with ease. The drive to town and restaurants is 20-30 mins each way. No Uber here. Overall great experience.
Property
Ski in / Ski out, Fantastic cabin!! The property was even better than we expected and spectacular views! We will be back! 5-STARS
Property
We had a blast in Big Sky and your cabin was the perfect ski in ski out location! We would love to come back again in the future!
Property
Great house and location! Would definitely rent again.
Property
We loved staying at the cabin and cant wait to come back.
Property
It has been incredible and amazing, Cabin is above and beyond what we expected. Thanks so much, more than likely one of our best vacations.
Property
Vacay..... Excellent!!
Property
Much needed oasis! Excellent location, beautiful cabin. Plenty of room. Enjoyed the kitchen filled with all the amenities. Only 15 minutes from downtown yet far enough to have cute foxes as evening visitors. Highly recommended!
Property
Wonderful property! We really enjoyed our stay at the cabin! The view was amazing! Thank you
Property
Wonderful Location! The owner is extremely responsive to any questions presented while we were at the property. The cabin was well stocked and had in-date bear spray in the unit. The weather was awesome for the majority of the week.
Property
Wonderful 10 year anniversary trip! My husband and I celebrated our 10 year anniversary at the cabin. The location was great and wonderful mountain views! Cabin is just as listed and beautiful. Definitely recommend 10/10!
Property
We had a wonderful week in Big Sky! We loved the Cabin.
Property
Wonderful stay! The property was Spectacular exceptionally clean. A host answered immediately when we had any questions would recommend this place and would love to stay again