Description
* New Fall '23 Completely renovated bathrooms with tile, HEATED floors, custom showers, new toilets, vanities.

Step off the front porch on to the groomed slope! This true ski-in/ski-out luxury Cowboy Heaven Cabin on the slope in Big Sky, Montana is nestled in the trees of Moonlight Basin for the ultimate escape and privacy. The Wrangler will make you feel right at home with all of the amenities you will need for any summer or winter vacation.

This luxury Cowboy Heaven cabin has it all. The gourmet kitchen, with stainless steel appliances, granite counters and all cooking utensils, will allow you the luxury of cooking in for any meal. Smart TV's in both bedrooms and the living room offer everyone the option of relaxing and viewing whatever you like after a wonderful day on the slopes or a day of hiking, rafting, or wildlife viewing in Yellowstone National Park.

The master suite has a king bed with a super comfy mattress as well as a Smart TV and a private bath with shower and a separate sink/vanity. Bedroom 2 has a brand new XL twin over queen (with new comfy mattress) bunk bed and a flat screen TV. Full Bathroom 2 has a shower/tub, granite counter, and single vanity.

Enjoy a beverage of your choice while soaking in the private outdoor hot tub on our deck as you watch your kids sled directly from the cabin down a gentle slope. Put on your skis or snowboard ON YOUR PORCH and go directly to the Iron Horse or Pony Express lift. And when you need a break, ski-in for lunch or a cup of hot chocolate. Lace up your hiking boots and hike directly from the cabin to amazing views. Don't miss the fox, deer, and other wildlife that share the outdoors with us around the cabin.

Winter or summer, there is parking directly next to the cabin. Easy in and out for any occasion. With Yellowstone only 45 minutes away, this is the perfect luxury lodging option with all of the amenities of a rustic 'Out West' experience. You will love it so much, you will never want to leave.

* The Moonlight Club/ Moonlight Lodge is private and permanently closed to all rental guests.

** Big Sky Resort officially opens each year for the winter and snow skiing season on the Wednesday before Thanksgiving Day. Please note, this property is ski-in/ski-out via the Iron Horse and Pony Express lifts from mid-December to mid-April. Those 2 lifts typically open the 2nd weekend in December and close in mid-April. All lift operations are snow dependent and operated completely at Big Sky Resort's discretion. If the Pony Express and Iron Horse lifts are not running for any reason during your stay, you can either take the free local shuttle from Saddle Ridge or drive to/from the Big Sky Mountain Village to ski, which is less than 2 miles away.
More Amenities
Beds | Baths:
Sleeps 5 in beds
Bedroom 1 - King bed | private bath, shower | Smart TV | main level
Bedroom 2 - Bunk Bed with XL Twin over Queen | flat screen TV | main level
Full Bath off of Hallway | tub/shower
* New Fall '23 Completely renovated bathrooms with tile, HEATED floors, custom showers, new toilets, vanities.

Sheets and Towels Provided
* Extra towels under all bathroom sinks
_______________________________________________________________________________________________________
Kitchen | Dining:
Granite Counters
Stainless Steel Appliances
Ice Maker
Coffee maker + Keurig
Toaster
Electric Griddle
Hand mixer
Crock pot
Roasting pan
Cookware/Bakeware
Salt and pepper
All kitchen utensils
Dining table seats 4
_______________________________________________________________________________________________________
Living Room:
Gas Stove (controlled by thermostat on wall)
42 inch flat screen TV
Stereo
_______________________________________________________________________________________________________
Supplies provided in cabin:
Kitchen bags
Dishwasher tabs
Dish liquid
Coffee filters (coffee not provided)
Sponge (1 new)
Toilet paper (3 rolls per bathroom)
Paper towels (3 rolls)
Tissue
Laundry detergent
Dryer sheets
Bath soap
_______________________________________________________________________________________________________
Additional Amenities:
Sleds for afternoon fun in the winter
Fans and humidifiers in each bedroom
_______________________________________________________________________________________________________
Outdoor Features:
Private hot tub 4+ person- on front porch with views of Spanish Peaks Mountain range and valley
Large Front porch with outdoor seating (table and chairs for dining)
Propane grill with propane provided
_______________________________________________________________________________________________________
House Rules:
No smoking permitted
No pets permitted
_______________________________________________________________________________________________________
Other options available upon request:
Pack n play
Highchair/booster seat
Calendar
Oct - 2023
S
M
T
W
T
F
S

1

2

3

4

5

6

7

8

9

10

11

12

13

14

15

16

17

18

19

20

21

22

23

24

25

26

27

28

29

30

31
Nov - 2023
S
M
T
W
T
F
S

1

2

3

4

5

6

7

8

9

10

11

12

13

14

15

16

17

18

19

20

21

22

23

24

25

26

27

28

29

30
Dec - 2023
S
M
T
W
T
F
S

1

2

3

4

5

6

7

8

9

10

11

12

13

14

15

16

17

18

19

20

21

22

23

24

25

26

27

28

29

30

31
Jan - 2024
S
M
T
W
T
F
S

1

2

3

4

5

6

7

8

9

10

11

12

13

14

15

16

17

18

19

20

21

22

23

24

25

26

27

28

29

30

31
Feb - 2024
S
M
T
W
T
F
S

1

2

3

4

5

6

7

8

9

10

11

12

13

14

15

16

17

18

19

20

21

22

23

24

25

26

27

28

29
Mar - 2024
S
M
T
W
T
F
S

1

2

3

4

5

6

7

8

9

10

11

12

13

14

15

16

17

18

19

20

21

22

23

24

25

26

27

28

29

30

31
Apr - 2024
S
M
T
W
T
F
S

1

2

3

4

5

6

7

8

9

10

11

12

13

14

15

16

17

18

19

20

21

22

23

24

25

26

27

28

29

30
May - 2024
S
M
T
W
T
F
S

1

2

3

4

5

6

7

8

9

10

11

12

13

14

15

16

17

18

19

20

21

22

23

24

25

26

27

28

29

30

31
Floor Plan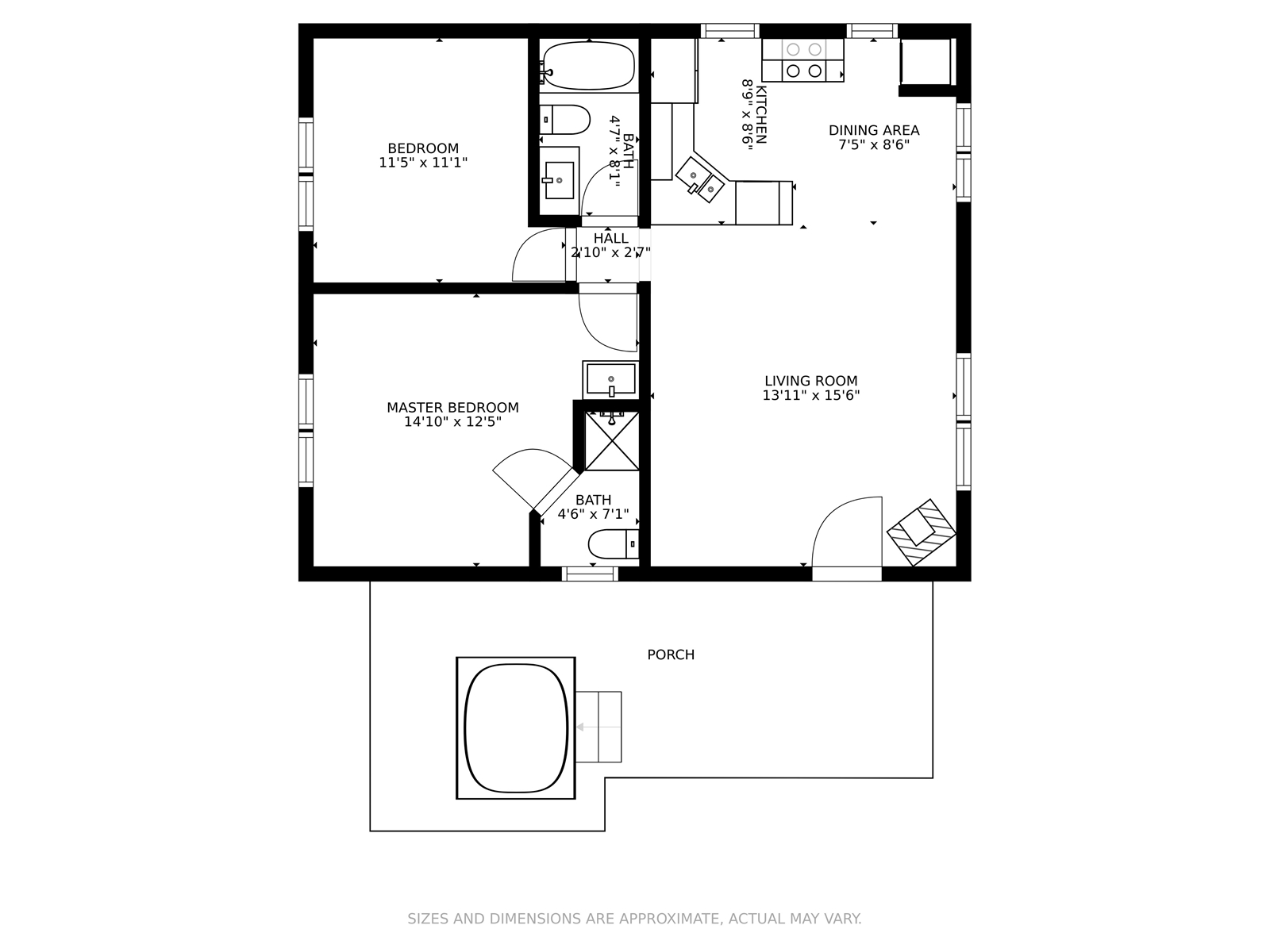 Reviews
Page: 1 of 4
Property
We had a great trip and the cabin was perfect for our needs. We tried to leave it as we found it. We look forward to renting with you again. Thanks for everything.
Property
Perfect tucked away cabin! Our stay was lovely. The cabin offers plenty of space and a beautiful back patio for evenings fireside or in the hot tub. Grab Cowboy Coffee in town and enjoy shopping or hiking local trails and waterfalls. If youre heading that way, Yellowstone National Park West Entrance is about an hour drive.
Property
First Class ! Our experience was so good I can't really think of anything that could have been better !? Our experience was simply put First Class.
Property
Thank you for supplying such a beautiful two (2) bedroom cabin for rental. The cabin was clean and it was noticed an effort was made to keep the cabin clean. The kitchen was stocked which made preparing meals easier. We had no complaints with the cabin, and communications with the Samuels was easy. The online listing was true and accurate of the pictures for Cowboy Heaven - the Wrangler. The hot tub was clean prior to our arrival and worked during our stay with plenty of towels. Also, the welcome gift basket was unexpected. The Moonlight Vacation beanies were nice and comfortable. Cool gift idea. This cabin is a ski-in cabin with the ski run outside of the front door. The Samuels made the effort to provide sleds, table and chairs plus an outdoor fireplace. The porch had more items on the porch to make it feel like home than other cabins with only a hot tub on the porch. The skiing was great and the fresh snow during the stay was welcoming. The neighborhood service plowed the streets and in front of the cabin for easy access on the roadways. Thanks again and we really enjoyed the cabin! I will use the link for further Moonlight Vacation Rentals.
Property
Great location, and warm and welcome vibes! My friend and I stayed here for almost a week and we had a excellent experience at this property and would recommend it to anyone. The property management team was also extremely helpful! Bring warm clothes as it gets very cold in Big Sky!
Property
Thanks again for another great visit. These cabins are our favorite ski accommodations compared to any other mountain weve been at.
Property
Enjoyed our stay. Cabin has everything you need and wildlife was out back on most days. Owner was very responsive to any questions and very quick to reply to our communications. This was our first time to Big Sky and it was truly amazing. For a summer trip, Moonlight Basin is a bit separated from everything else but the various wildlife encounters made it worth the extra time up and down the mountain. I would recommend to anyone.
Property
Summer 2022 trip! My family of four really enjoyed this home as a base camp for area activities. The photos are accurate, the home is clean and well-maintained and the owner is very responsive. All though there are many rental units in the immediate vicinity, almost all were unoccupied so we had lots of privacy. If you visit in the summer and enjoy active outdoor adventures, I recommend hiking Lava Lake and Ousell Falls, renting side-by-side ATVs from Canyon Adventures, and whitewater rafting on the lower Gallatin River with Geyser Whitewater.
Property
Everything was perfect and as pictured / described. Had all the kitchen supplies needed to cook meals. The property is easy to ski out and a short walk to ski in. Perfect accommodations for a family of 4 (with 2 teenage boys). Hope to be back again soon!
Property
Great little house right on the slopes. From here you can ski in and out right from the front door. Its quite comfortable and charming for us, a family of 4. Plenty of room to lounge when not on the slopes. Hot tub on the porch was great after a day skiing. Big Sky resort is amazing place and huge. Theres something here for everyone. The owners were very easy to work with and check in and checkout was super easy and smooth. If skiing is your jam, wed highly recommend this place.
Property
Cowboy Heaven! Great location Walk out your front door and ski down the hill
Property
Cowboy Heaven is a skiers paradise! This cabin was awesome. The kitchen was amazingly stocked with lots of kitchen items; ( I love to cook) so it was great to find everything I needed. We loved the crock pot and enjoyed lots of yummy meals coming in from skiing. We especially enjoyed the hot tub and noted that it was well maintained. Another awesome bonus to this property was that every thing is supplied from dish soap, laundry soup, and bath soup. And I cant forget to mention there was plenty of fluffy towels. We were so thrilled upon arrival to see a basket of goodies waiting for us, which included wine, yummy snacks, lip balm, and hand warmers. A very nice touch. The bonus was that we really enjoyed the ski in ski out ability. Now I am spoilt. Cannot wait to come back and stay again. Thanks so much for having such an outstanding property available to rent.
Property
Great ski in/ski out location! Well equipped, clean, perfectly located cabin. We had a great stay for a ski vacation. This cabin has the benefits of being in Moonlight Basin (ski in/ski out, removed from the Village) but with better ski access than other Moonlight properties (easy access to a non real estate lift that gets you right to the skiing). Wed definitely return.
Property
Weve really enjoyed this cabin. Ive been visiting Big Sky in the winter for about 10 years now and have stayed all over the mountain. The Wrangler is definitely in my top 3!
Property
Best ski-in ski-out accommodations on the planet! Very, very good.
Property
Great Cabin, Great Location- Everything about the stay was fantastic! Spent 6 days at Cabin for wifes 50th Birthday. Perfect size for 2 adults and 2 teenagers. A true ski in/out location with everything needed to cook all meals. I would highly recommend to anyone!!! Hope to stay here in the future.
Property
Family Ski & Snowboard Trip-- We stayed at the Wrangler cabin the first week of January 2022 for our family ski & snowboard trip. It was perfect for my wife and I and our two kids who are 11 and 12 years old. The cabin is set right off a wooded trail which leads to a lift less than a 10 minute run down the hill. The cabin had everything we needed from great wifi (for the occasional work issues) to all the cooking essentials we needed. We cooked most of our meals at the cabin. There is a bbq grill on the porch which worked great and we used multiple times. A real treat was the jacuzzi on the porch. It was so relaxing to jump in after a day on the mountain and watch the snow fall. The cabin itself was so quaint and warm with all the furnishings plush and comfortable. If you want to experience a real log cabin set up in the mountains with your family then this is it!
Property
Christmas ski getaway! We enjoyed the coziness of the cabin, the hot tub in the mornings and after a day of skiing. The cabin had everything we needed for our Christmas away from home.
Property
We had an excellent stay , enjoyed unexpected snow saw Yellowstone with our sunny day , sled down the mountain with sleds supplied by the host . Went white water fishing Such a pristine place to get away from it all . And admire Gods handy work . The hosts are so patient with all my questions regarding driving on the snow and fun things to do . I do recommend this cabin
Property
Just retired! Trying out retirement. Was a wonderful stay at the cabin. Clean, comfortable beds.
Property
Excellent! We will definitely be back.
Property
Peaceful retreat- We really enjoyed our week long stay in this cute cabin! Perfect size for a family of 4! It was so nice and quiet. The cabin is really clean and well maintained too. I loved how they provide detergent and fabric softener as well! Its the little things that count! We would love to visit during the winter! Thank you for a great stay Acra!
Property
Weve enjoyed staying in your cozy basin! Wish we couldve of stayed longer!
Property
Wow! What a wonderful place! Over all just amazing. Highly recommend!