Description
Step out of your door and on to the slope! It does not get any better than this!

This 5 star luxury slopeside chalet is the perfect location to spend the vacation of a lifetime. Located at the end of Silver Star Drive - directly on the slope, with the best views in all of Big Sky, this home will provide the perfect escape from reality that we are all searching for. Enjoy the benefits of skiing in for a quick lunch or snack as this home is directly on the slope, the spectacular views from the 7 person hot tub while drinking the beverage of your choice, watching your child sled next to the home, or simply curling up next to the large stone fireplace in the living room and staring at the most amazing views in Big Sky.

This ski-in/ski-out home has heated floors throughout, a stone wood burning fireplace in the living room with 3 bedrooms + a totally separate loft, all with private baths & flat screen TV's. The master suite is on the main level and has a king bed and gas fireplace, as well as a large jacuzzi tub and walk-in shower + large double vanity. Bedroom suites 2 & 3 are located on the lower level. Bedroom suite 2 has a queen bed and private bath, and bedroom suite 3 has a queen bed and private bath.The loft is on the 3rd level of the home and has a queen bed and twin bed with a separate sitting area including 50" flat screen TV and sleeper sofa and private bath. This home sleeps 9+ comfortably.

Enjoy spectacular views and exceptional Montana luxury as well as the best ski-in/ski-out in the Rockies from this truly amazing 5 star home.

* The Moonlight Club/ Moonlight Lodge is private and permanently closed to all rental guests.

** Big Sky Resort officially opens each year for the winter and snow skiing season on Thanksgiving Day. Please note, this property is ski-in/ski-out via the Six Shooter lift from mid-December to mid-April. That lift typically opens the 2nd weekend in December and closes in mid-April. All lift operations are snow dependent and operated completely at Big Sky Resort's discretion. If the Six Shooter lift is not running for any reason during your stay, you can either take the free local shuttle from Saddle Ridge or drive to/from the Big Sky Mountain Village to ski, which is less than 2 miles away.
More Amenities
Beds | Baths:
Sleeps 9 in beds
Bedroom 1- King bed | gas fireplace | private bath, large jetted tub, separate shower, heated floors | flat screen TV | main level
Bedroom 2- Queen bed | private bath, shower, heated floors | flat screen TV | lower level
Bedroom 3- Queen bed | private bath, tub/shower, heated floors | flat screen TV | lower level
Loft- Queen bed | Twin bed | sofa | 55 inch flat screen TV | upper level
Half Bath on Main level

Sheets and Towels Provided
* Extra towels under all bathroom sinks
_______________________________________________________________________________________________________
Kitchen | Dining:
Granite Counters
Heated Floors
Stainless Steel Appliances
Additional Beverage Refrigerator
Ice Maker
Toaster
Hand mixer
Electric griddle
Crock pot
Roasting pan
Cookware/Bakeware
Salt and pepper
All kitchen utensils
Dining table seats 6
Bar seating for 4
_______________________________________________________________________________________________________
Living Room:
Wood burning fireplace (wood provided)
55 inch flat screen TV
Heated Wood Floors
Printer
_______________________________________________________________________________________________________
Supplies provided in unit:
Kitchen bags
Dishwasher tabs
Dish liquid
Coffee filters (coffee not provided)
Sponge (1 new)
Toilet paper (3 rolls per bathroom)
Paper towels (3 rolls)
Tissue
Laundry detergent
Dryer sheets
Bath soap
_______________________________________________________________________________________________________
Additional Amenities:
Sleds for afternoon fun in the winter
Mud room with hooks - located directly off the slope (perfect for ski equipment storage)
Fans and humidifiers in each bedroom
_______________________________________________________________________________________________________
Outdoor Features:
1 Car Garage + off street parking
Private hot tub 7+ person- on back deck with Lone Peak/slopes/valley views
Large Deck off of living room with outdoor seating + private deck off of master suite
Propane grill with propane provided
_______________________________________________________________________________________________________
House Rules:
No smoking permitted
No pets permitted
_______________________________________________________________________________________________________
Other options available upon request:
Pack n play
Highchair/booster sea

Calendar
Oct - 2023
S
M
T
W
T
F
S

1

2

3

4

5

6

7

8

9

10

11

12

13

14

15

16

17

18

19

20

21

22

23

24

25

26

27

28

29

30

31
Nov - 2023
S
M
T
W
T
F
S

1

2

3

4

5

6

7

8

9

10

11

12

13

14

15

16

17

18

19

20

21

22

23

24

25

26

27

28

29

30
Dec - 2023
S
M
T
W
T
F
S

1

2

3

4

5

6

7

8

9

10

11

12

13

14

15

16

17

18

19

20

21

22

23

24

25

26

27

28

29

30

31
Jan - 2024
S
M
T
W
T
F
S

1

2

3

4

5

6

7

8

9

10

11

12

13

14

15

16

17

18

19

20

21

22

23

24

25

26

27

28

29

30

31
Feb - 2024
S
M
T
W
T
F
S

1

2

3

4

5

6

7

8

9

10

11

12

13

14

15

16

17

18

19

20

21

22

23

24

25

26

27

28

29
Mar - 2024
S
M
T
W
T
F
S

1

2

3

4

5

6

7

8

9

10

11

12

13

14

15

16

17

18

19

20

21

22

23

24

25

26

27

28

29

30

31
Apr - 2024
S
M
T
W
T
F
S

1

2

3

4

5

6

7

8

9

10

11

12

13

14

15

16

17

18

19

20

21

22

23

24

25

26

27

28

29

30
May - 2024
S
M
T
W
T
F
S

1

2

3

4

5

6

7

8

9

10

11

12

13

14

15

16

17

18

19

20

21

22

23

24

25

26

27

28

29

30

31
Floor Plan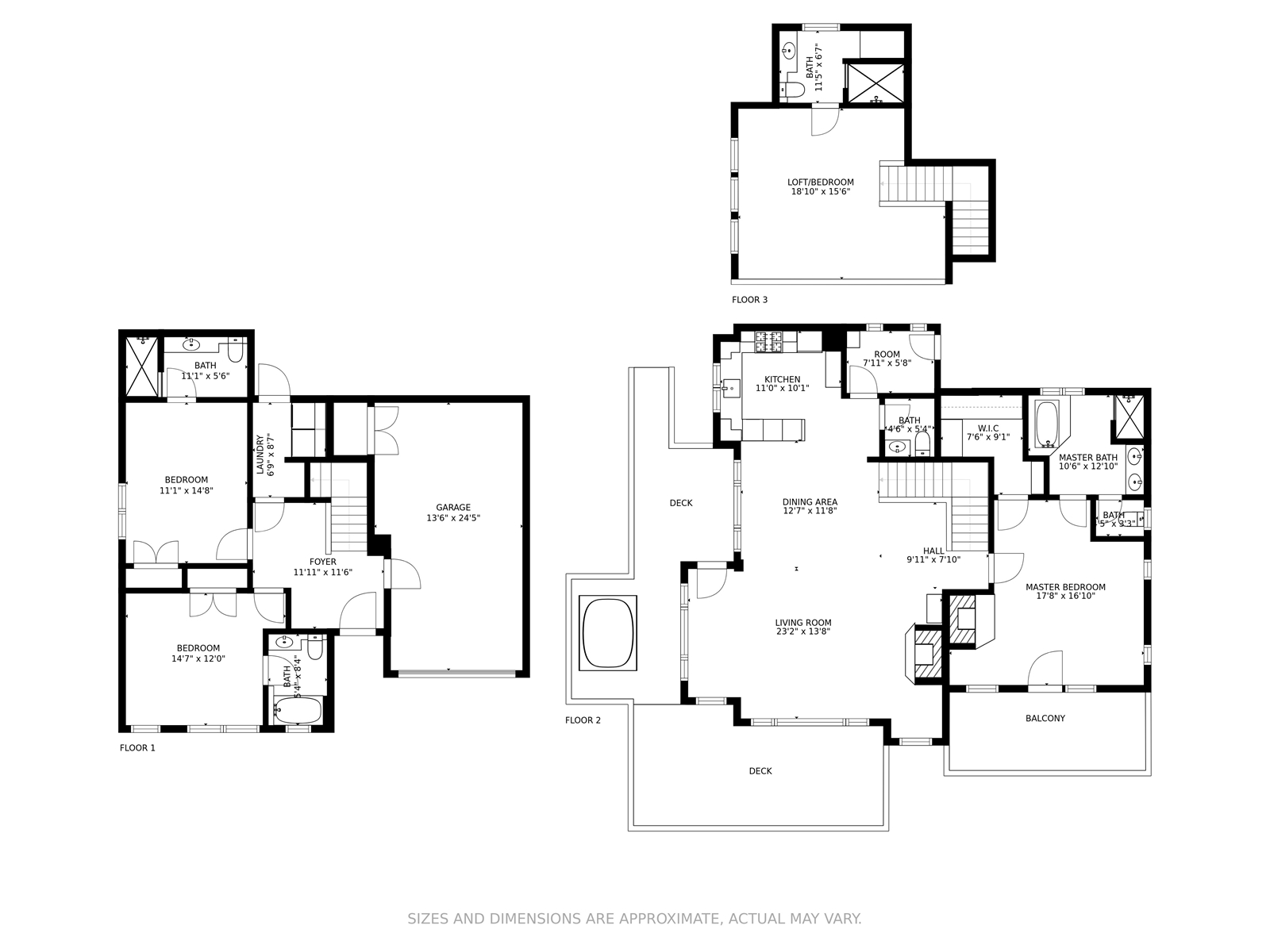 Reviews
Page: 1 of 2
Property
5 stars! Every year my husbands cousins and their spouses take a trip to a place none of us have ever been. This year we selected Big Sky. Out of all of the homes on VRBO, the Silver Star Chalet checked all of the boxes and we know now that we made the right selection. This high end home is in a stunning location with breathtaking views. The home was so clean with plenty of amenities. We love that every room has a bathroom. Perfect size for 6 people! Chris and Acura Samuels were wonderful to deal with and went above and beyond to ensure our stay was perfect. Thank you for that and thank you to Big Sky for giving us a lifetime of memories!
Property
Awesome! House was perfect! Beautiful views of the mountains will go back
Property
Fantastic cabin! Stayed here for a week over spring break with my wife, three kids (ages 4, 6, and 9), and my parents. Cabin was absolutely perfect. Ski in/out was awesome. Hot tub was perfect. Nothing but great things to say. Definitely will return again!
Property
60th birthday celebration! We had a wonderful stay at the Silver Star Chalet. The house is well appointed and rooms are large and comfortable. The kitchen, bathrooms and hot tub were sparkling clean. This house fit our family perfectly. We loved the ability to ski in/out, although some pushing involved. The week we were there was snowy and beautiful. Only issue was with the fireplace. We had trouble keeping the fire lit and smoke entered the house. We would definitely stay there again.
Property
Ski vacation, Perfect!
Property
Home was great and service and details from you all was fantastic. Great experience. HNY Abe and Kristen
Property
We can't say enough good things about our trip to Big Sky and our stay at Moonlight Basin. The house was perfect for our family of 5 plus two additional friends. There is a bathroom for each room so we never felt on top of each other. The kitchen was stocked with every imaginable tool, plenty of utensils, and serving dishes. The living room was so comfortable and the views were magnificent. We spent as much time as possible on the outdoor porch and our kids loved the hot tub. I was overwhelmed by planning and Acra helped guide us to the best of the best in Montana. Without her guidance, our trip wouldn't have been as successful. We cannot wait to return to this house during ski season.
Property
Perfect Stay! This was our first time taking a vacation in this area and it was 10/10! This chalet is so cozy, roomy and has the most beautiful views. Our 7 year old and 14 year old slept upstairs in the loft which they had made into their own little space. They could chill out and watch tv up there and use their own bathroom. My husband and I and my parents had plenty of room too. We all had plenty of space with the extra bathrooms. The fireplace and hot tub was used almost every night. Perfect stay!!! Highly recommend!
Property
Thank you Acra and Chris! We had a great and comfortable stay!
Property
We've had a great time in your house this week!
Property
Great ski house for families! We rent houses often and this one was one of the best. Great main floor. We were two families with kids of all ages and there was plenty of room to spread out or spend time together. Kitchen had very modern appliances and was well stocked. We would highly recommend this rental.
Property
The perfect vacation spot! We have a large family so we needed a lot of room and this place fit the bill ! Everything was just as described and more. Absolutely some of the greatest views we've ever had from a vacation home . Very close to Big Sky resort which had plenty to eat and plenty to do. Big Sky was perfect -not too busy or overcrowded but had everything you needed. Some in our group went into Yellowstone several times, but others enjoyed the peaceful Moonlight Basin neighborhood so much they hardly left Big Sky. We hiked some local trails, rented bikes, pedal boats, and rode the scenic chair lift many times. We enjoyed great local dining including street tacos , Chinese food, steak, pizza, and even freshly made donuts all within 10 minutes of this lovely home. When we wanted to stay in- the house was stocked with everything we needed to share a delightful meal together. We hope to return here for a winter vacation!!
Property
Montana Summer Vacation. Absolute great house. Looking forward to returning in the winter to sky.
Property
We really enjoyed our stay at Silver Star Chalet. The location was perfect having the true ski in/ski out directly out our back door. It was an easy drive to the village or into town. The amenities had everything that we needed, and then some. My wife who is not a skier only asks that wherever we go for our ski vacations has luxurious lodging with a nice view. Silver Star Chalet more than met these requirements. We would highly recommend this property to anyone.
Property
February 2021 Ski Trip! 12 Silver Star Chalet was nothing short of perfect! Heated floors, well-stocked kitchen that opens up into a cozy living room, ample firewood, ski-in/out, hot tub overlooking the mountain...you name it, this place has it! Property managers were very responsive and helpful! Towels, toiletries and kitchen essentials all provided including spices, oil, pots, pans, aluminum foil, dishwasher detergent, laundry pods, etc...and even 3 rolls of paper towels. Highly recommend this property and hope to visit Big Sky during the summer!
Property
Great house. Well stocked! Great location! Beautiful views.
Property
Acra, everything was great!
Property
We had an amazing time. Such a beautiful place. We want to come back for ski season! Home was wonderful. Thank you again for your hospitality.
Property
Family Time! Our family rented this lovely home for a change of scenery and to disconnect from technology and be with one another. There is no way one can expect the breathtaking views from Big Sky until they stand under the real big sky.... we were dazzled and amazed our entire visit, and were able to enjoy the area, even with social distancing protocols. All of our adventures were fueled by the comforts of our home away from home. Beautiful house, thoughtfully appointed, comfortable, well managed - a treat from start to finish. We would definitely return.
Property
Great house! Worked well for the three couples who stayed here. It was easy in and out for the wedding activities. Thanks for everything.
Property
Best ski-in ski-out property for families! Our first experience at Big Sky was made perfect by this home. The house easily accommodated 3 families with children (6 adults and 4 kids). Adults in bedrooms with en-suite bathrooms and kids sharing a large loft space that actually sleeps 5 easily. We spent 6 nights at this lovely home, skiing 4 days out of 5. The home is well equipped including appliances not typicallly available through a VRBO such as crock pot, blender, immersion blender, mixer, baking pans and mixing bowls. In addition, it is conveniently located to stop halfway through the day for lunch and apres ski. The beds in all rooms were comfortable, and the in floor heating kept the temperature consistent for our stay. The house was very clean upon arrival. Laundry with detergent was also quite helpful and convenient! One thing we really enjoyed in addition to the house was the Moonlight Lodge. We paid a fee of $100/day to have a guest pass, which is required for the duration of your stay not including check in or check out dates. With the guest pass, we had access to a charming Yurt at Ulerys lake which has snow tubing, ice skating, fat tire bikes and XC skis at no extra charge. At the lodge there is a nice pool and spa which we enjoyed one night. Chris and Acra are excellent hosts. We only had one issue during our stay which they remedied immediately upon a simple phone call. Now for the skiing! The skiing on the Moonlight side was so good that we hardly went to Big Sky Mountain. The house is situated on a ski road that crosses bridges and takes some skating but not much. It may be difficult for snow boarders or younger kids, but our crew did not struggle with it. Chris and Acra left clear instructions on how to return to the house, which includes crossing one of the worlds longest ski bridges, a special experience for adults and kids alike. Overall, we all agreed this place was phenomenal, would recommend it, and gladly rent again!
Property
Perfect! The views and ski access are unbeatable! The hot tub was AWESOME and helped get us ready for the next day and MORE snow! Very comfortable and clean and perfect amount of space for 8 of us. We will be back!
Property
Great easy lift access.
Property
We started out with plans for a couples ski trip and this house was a perfect fit with a ski-in / ski-out location, great floor plan (every bedroom has its own private bath), excellent kitchen and amazing views. Our trip ended up being a "guys" ski-trip and the house ended up being perfect for that too. We had intended to take advantage of the many fine restaurants in town, but after coming right in off the slopes, starting a fire and using the well equipped kitchen, there was no reason to leave. Finish with a soak in the hot tub and watch the groomers go by 20ft from the house. Can't ask for much more!! The property manager was very easy to work with and the house is equipped as every nice rental should be. Kitchen is well equipped, plenty of dry firewood in the garage, linens and toiletries, and even a communal spice cubbord (yes we paid-it forward and added to the collection). All of us would come back in a heart beat and my 22 year old son gave it a 9 out of 10 for a ski trip (he only gave Zermatt a 7).
Property
This home worked perfectly for our August vacation. We had 2 families of 4 and there was plenty of room to spread out between the 3 levels. The management company was top notch from start to finish. Everything was new or well taken care of. The home was an easy hour drive to Yellowstone which was a fabulous day trip. The access to Moonlight Lodge was a big plus for us. We loved our time fishing, canoeing and paddle boarding on the lake. Our highlights were river rafting, horseback riding, zip lining and hiking BeeHive Basin. Yellowstone was awesome. We also loved dinner in town followed by the outdoor summer concert. Great Memories!