Description
Don't miss the opportunity to watch the sun rise from this true ski-in/ski-out Cowboy Heaven Cabin in Moonlight Basin. This is the perfect winter or summer vacation destination. Whether you are coming with your family or on a romantic getaway, this Cowboy Heaven Cabin is the place for you. Soak in the private outdoor hot tub while watching a shooting star in our beautiful, clear Montana sky or get first tracks on the Powder River ski run each morning. This cabin skis out to the Iron Horse and Pony Express lifts (beginner/intermediate slopes) and allows easy access to either side of Big Sky Resort's 5800 skiable acres. The private outdoor tub is on the front porch along with outdoor seating and a gas grill.

Relax in the cozy living room with breathtaking views from every window. The full kitchen is fully loaded and perfect for cooking when the snow is piling up outside and all you want to do is relax and watch! The master suite has a king bed, a private bath with shower and flat screen TV. Bedroom 2 has 2 XL twin beds and a flat screen TV. Full bathroom 2 has a shower/tub and single vanity.

There is parking directly next to the cabin along with hiking trails. The private wifi password will be provided on the kitchen counter upon arrival.

Don't wait! Book this Cowboy Heaven Cabin today! Adventure awaits!!!

* Big Sky Resort officially opens for ski season the Wednesday before Thanksgiving Day. This property is ski-in/ski-out via the Iron Horse and Pony Express lifts. Early and late season ski access is condition dependent and may vary. All lift operations are completely at Big Sky Resort's discretion.
More Amenities
Beds | Baths:
Sleeps 4 in beds
Bedroom 1- King bed | flat screen TV | private bath with shower | main level
Bedroom 2- 2 XL Twin beds | flat screen TV | main level
Full Bath off of Hallway | tub/shower

Sheets and Towels Provided
* Extra towels under all bathroom sinks
_______________________________________________________________________________________________________
Kitchen | Dining:
Stainless Steel Appliances
Ice Maker
Toaster
Hand mixer
Crock pot
Roasting pan
Cookware/Bakeware
Salt and pepper
All kitchen utensils
Dining table seats 4
_______________________________________________________________________________________________________
Living Room:
Gas Stove (controlled by thermostat on wall)
42 inch Smart TV
_______________________________________________________________________________________________________
Supplies provided in cabin:
Kitchen bags
Dishwasher tabs
Dish liquid
Coffee filters (coffee not provided)
Sponge (1 new)
Toilet paper (3 rolls per bathroom)
Paper towels (3 rolls)
Tissue
Laundry detergent
Dryer sheets
Bath soap
_______________________________________________________________________________________________________
Additional Amenities:
Sleds for afternoon fun in the winter
Fans and humidifiers in each bedroom
_______________________________________________________________________________________________________
Outdoor Features:
Private hot tub 4+ person- on front porch with views of Spanish Peaks Mountain Range, ski slopes and valley
Large Front porch with outdoor seating
Propane grill with propane provided
_______________________________________________________________________________________________________
House Rules:
No smoking permitted
No pets permitted
_______________________________________________________________________________________________________
Other options available upon request:
Pack n play
Highchair/booster seat
Calendar
Dec - 2023
S
M
T
W
T
F
S

1

2

3

4

5

6

7

8

9

10

11

12

13

14

15

16

17

18

19

20

21

22

23

24

25

26

27

28

29

30

31
Jan - 2024
S
M
T
W
T
F
S

1

2

3

4

5

6

7

8

9

10

11

12

13

14

15

16

17

18

19

20

21

22

23

24

25

26

27

28

29

30

31
Feb - 2024
S
M
T
W
T
F
S

1

2

3

4

5

6

7

8

9

10

11

12

13

14

15

16

17

18

19

20

21

22

23

24

25

26

27

28

29
Mar - 2024
S
M
T
W
T
F
S

1

2

3

4

5

6

7

8

9

10

11

12

13

14

15

16

17

18

19

20

21

22

23

24

25

26

27

28

29

30

31
Apr - 2024
S
M
T
W
T
F
S

1

2

3

4

5

6

7

8

9

10

11

12

13

14

15

16

17

18

19

20

21

22

23

24

25

26

27

28

29

30
May - 2024
S
M
T
W
T
F
S

1

2

3

4

5

6

7

8

9

10

11

12

13

14

15

16

17

18

19

20

21

22

23

24

25

26

27

28

29

30

31
Jun - 2024
S
M
T
W
T
F
S

1

2

3

4

5

6

7

8

9

10

11

12

13

14

15

16

17

18

19

20

21

22

23

24

25

26

27

28

29

30
Jul - 2024
S
M
T
W
T
F
S

1

2

3

4

5

6

7

8

9

10

11

12

13

14

15

16

17

18

19

20

21

22

23

24

25

26

27

28

29

30

31
Floor Plan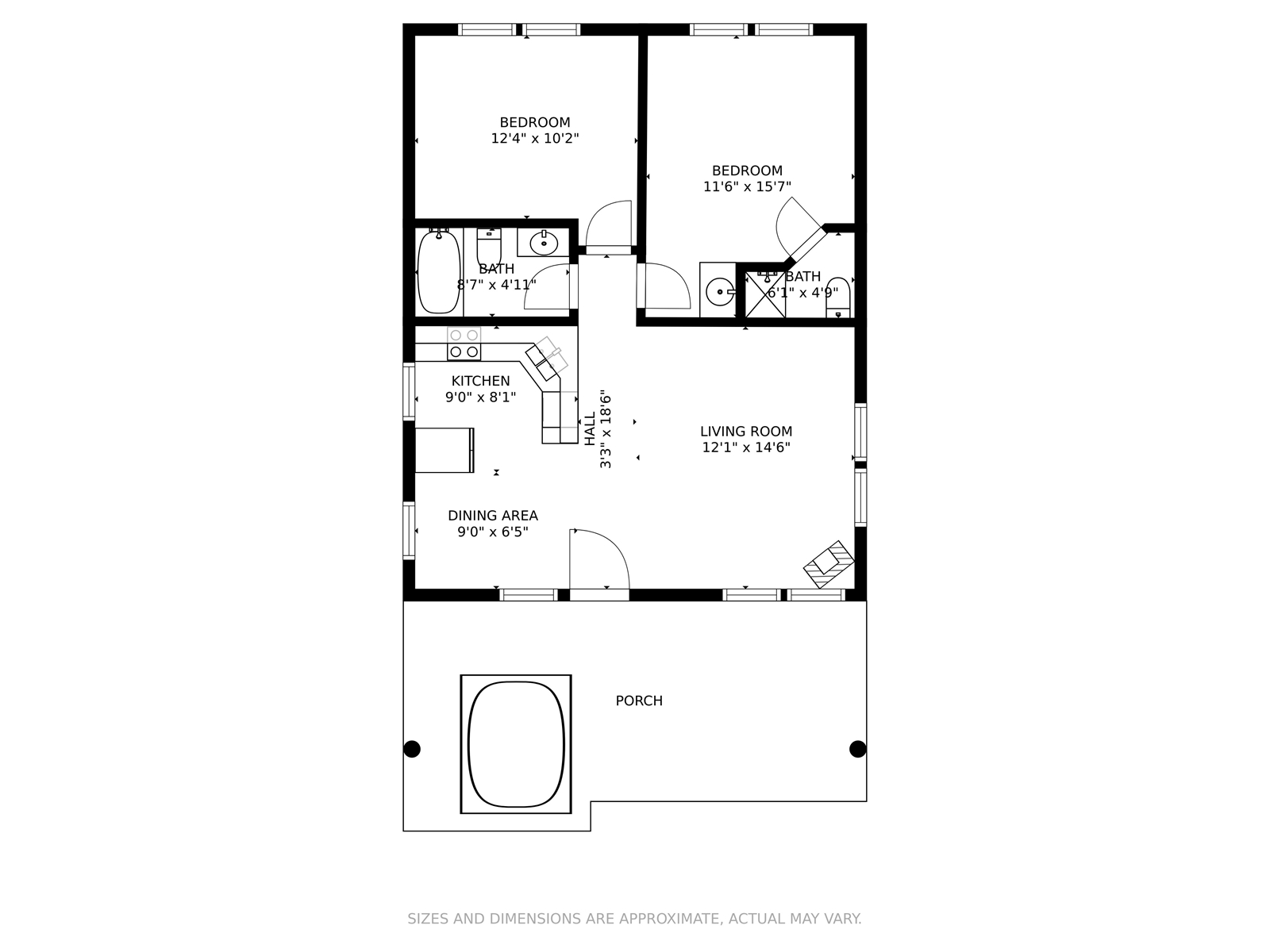 Reviews
Page: 1 of 3
Property
We really enjoyed the stay. We loved the decor and your attention to detail. We certainly hope to be back someday.
Property
Best Vacation Yet! The cabin. The views. YNP. Waking up every morning to the most incredible views. Checking out this morning left us all incredibly sad and already planning our return. The overall trip and stay could not have been any better.
Property
Heavenly! Photos do not due the actually view justice. Started with morning coffee on the deck taking in the breathtaking views and the hot air balloons in the distance. Relaxing evenings in the hot tub with the cool breeze blowing looking out at the picturesque mountains was so tranquil after our excursions. Late night star gazing was magnificent for us city folk. The cabin was clean, comfortable, decorated with special Montana touches and equipped with all the necessity. Cowboy Heaven Cabin is the ideal place to stay. Don't hesitate, Book it!!!!
Property
Wonderful stay! The cabin is as advertised and beautiful. Great location, amazing views, and really comfortable and beautiful accommodations. Would love to stay again!
Property
Beautiful property and amazing hosts!!!
Property
We have had an absolutely awesome vacation in your amazing cabin!! You truly have thought of everything and we felt so welcomed. We were so comfortable and had such a great time. The kitchen and beds were amazing! Big Sky and Bozeman did not disappoint!
Property
Honeymoon! This was an awesome trip and we loved the place.
Property
Thank you for your hospitality. Our stay was amazing. We hiked Beehive Basin, visited Bozeman and Yellowstone, and went white water rafting. We will definitely be back!
Property
Perfect cabin on a ski run! Fun ski-in-out cabin with a hot tub looking out at the mountain.
Property
We had an amazing time. The snow/conditions were perfect. The Cowboy Heaven Cabin was just right for our family. Thanks for recommending it. We love Moonlight Basin! Cant wait to return next year.
Property
Loves our stay! Ski in/ski out. Perfect size for our ski getaway. Has everything you need but easy and close to restaurants.
Property
Cabin perfection! We love Big Sky and this was our first time staying in the Cowboy Heaven neighborhood. This charming cabin had everything our family could have needed or wanted. The location for ski in ski out was perfect and the views from the cabin were SPECTACULAR! We will definitely stay again. This cozy, well cared for cabin made for a Perfect ski vacation!
Property
Cowboy Heaven -- We had a heavenly time staying at this adorable little cabin. The ski in / ski out location could not be beat, making it easy to pop in and out throughout the day for breaks with kids and meals. We literally never left except to ski! The kids loved the hot tub and sleds as well, for afternoon play. We will be back!
Property
True Ski In Ski Out Cozy Cabin! We had a wonderful family vacation in this cozy cabin. Perfect size for the 4 of us. Very well furnished with everything we needed. Great view from the hot tub. Location is true Ski In Ski Out, only steps away from the slopes. I highly recommend this property.
Property
Beautiful cabin in the mountains! We loved our stay at this wonderful cabin in Big Sky. Everything was as promised, and the location is even more beautiful that the pictures suggest. The check in/check out process was super simple; manager was very responsive. We arrived late and we loved that there was a welcome basket with snacks and chap stick when we got there !
Property
Awesome experience! If you are looking for a cozy get away, this is your place! We were able to just chill and take in the breathtaking views, but if we wanted to go check out Yellowstone, we were only 45 mins! This was a fantastic trip and me and my wife cannot wait to get back!
Property
Great views and mountain access! My wife and I stayed with another couple at this true ski in/out experience. Best vacation ever. Don't book anywhere else.
Property
We had a wonderful time. The place was perfect. We had considered staying closer to the main base but were so happy we decided instead to stay at the cabin. The hot tub after a day of snowboarding was the best! We will definitely use your website for future bookings and tell friends about our wonderful experience! Thank you!
Property
Really enjoyed the cabin, such a beautiful property. Thank you again for a wonderful place to stay. It is a trip we will remember for the rest of our days.
Property
Thank you for this absolutely beautiful location. We thoroughly enjoyed our visit and the breathtaking views your cabin provided. We highly recommend this location and will be back again in the future.
Property
Perfect! These accommodation's were great! There was even a little mama fox that would visit which made our stay even more perfect.
Property
We had a fantastic time! The cabin was clean and had great amenities. It was the perfect base camp for our family. We could stay in a couple days and enjoy a relaxing day, walks around the area and of course the hot tub. Or we could head a few miles into Big Sky for adventures, biking, fishing, trails, shopping, food, the list goes on. Or even take a trip to Yellowstone a short 50 min drive away. Great trip highly recommend!
Property
Big Sky! Great place to stay- Breathe taking views - The small town of Big Sky is also wonderful filled with great places to eat and everyone in town was super laid back and very welcoming to everyone. Cant say enough good things about this place. I highly recommend staying at this cabin if you ever have the opportunity and also taking sometime to spend in Big Sky and surrounding area as well. Wonderful Stay!!
Property
We had a great visit. Both the cabin and the location were terrific. Thanks for assisting -- and answering all my questions. We'll be back next year.
Property
Our family of three stayed in The Alpine Escape and could not have been happier. The Samuels were great to work with and we were greeted with a welcome basket of wine, snacks, hand warmers, etc. Such a thoughtful touch! The location of this cabin could not be better. We were able to ski directly to our porch at the end of the day. And the ski out was just a short walk to the Powder River run. Every morning I was sure to be up to watch the sun rise over the mountains. Truly spectacular! The views from the porch and hot tub were amazing. The kitchen is well stocked and the little extras (plenty of fluffy towels, extra pillows, room humidifiers) were greatly appreciated. We will definitely be back.