Description
Don't miss the opportunity to watch the sun rise from this true ski-in/ski-out Cowboy Heaven Cabin in Moonlight Basin. This is the perfect winter or summer vacation destination. Whether you are coming with your family or on a romantic getaway, this Cowboy Heaven Cabin is the place for you. Soak in the private outdoor hot tub while watching a shooting star in our beautiful, clear Montana sky or get first tracks on the Powder River ski run each morning. This cabin skis out to the Iron Horse and Pony Express lifts (beginner/intermediate slopes) and allows easy access to either side of Big Sky Resort's 5800 skiable acres. The private outdoor tub is on the front porch along with outdoor seating and a gas grill.

Relax in the cozy living room with breathtaking views from every window. The full kitchen is fully loaded and perfect for cooking when the snow is piling up outside and all you want to do is relax and watch! The master suite has a king bed, a private bath with shower and flat screen TV. Bedroom 2 has 2 XL twin beds and a flat screen TV. Full bathroom 2 has a shower/tub and single vanity.

There is parking directly next to the cabin along with hiking trails. The private wifi password will be provided on the kitchen counter upon arrival.

Don't wait! Book this Cowboy Heaven Cabin today! Adventure awaits!!!

* The Moonlight Club/ Moonlight Lodge is private and permanently closed to all rental guests.

** Big Sky Resort officially opens each year for the winter and snow skiing season on Thanksgiving Day. Please note, this property is ski-in/ski-out via the Iron Horse and Pony Express lifts from mid-December to mid-April. Those 2 lifts typically open the 2nd weekend in December and close in mid-April. All lift operations are snow dependent and operated completely at Big Sky Resort's discretion. If the Pony Express and Iron Horse lifts are not running for any reason during your stay, you can either take the free local shuttle from Saddle Ridge or drive to/from the Big Sky Mountain Village to ski, which is less than 2 miles away.
More Amenities
Beds | Baths:
Sleeps 4 in beds
Bedroom 1- King bed | flat screen TV | private bath with shower | main level
Bedroom 2- 2 XL Twin beds | flat screen TV | main level
Full Bath off of Hallway | tub/shower

Sheets and Towels Provided
* Extra towels under all bathroom sinks
_______________________________________________________________________________________________________
Kitchen | Dining:
Stainless Steel Appliances
Ice Maker
Toaster
Hand mixer
Crock pot
Roasting pan
Cookware/Bakeware
Salt and pepper
All kitchen utensils
Dining table seats 4
_______________________________________________________________________________________________________
Living Room:
Gas Stove (controlled by thermostat on wall)
42 inch Smart TV
_______________________________________________________________________________________________________
Supplies provided in cabin:
Kitchen bags
Dishwasher tabs
Dish liquid
Coffee filters (coffee not provided)
Sponge (1 new)
Toilet paper (3 rolls per bathroom)
Paper towels (3 rolls)
Tissue
Laundry detergent
Dryer sheets
Bath soap
_______________________________________________________________________________________________________
Additional Amenities:
Sleds for afternoon fun in the winter
Fans and humidifiers in each bedroom
_______________________________________________________________________________________________________
Outdoor Features:
Private hot tub 4+ person- on front porch with views of Spanish Peaks Mountain Range, ski slopes and valley
Large Front porch with outdoor seating
Propane grill with propane provided
_______________________________________________________________________________________________________
House Rules:
No smoking permitted
No pets permitted
_______________________________________________________________________________________________________
Other options available upon request:
Pack n play
Highchair/booster seat
Calendar
Oct - 2023
S
M
T
W
T
F
S

1

2

3

4

5

6

7

8

9

10

11

12

13

14

15

16

17

18

19

20

21

22

23

24

25

26

27

28

29

30

31
Nov - 2023
S
M
T
W
T
F
S

1

2

3

4

5

6

7

8

9

10

11

12

13

14

15

16

17

18

19

20

21

22

23

24

25

26

27

28

29

30
Dec - 2023
S
M
T
W
T
F
S

1

2

3

4

5

6

7

8

9

10

11

12

13

14

15

16

17

18

19

20

21

22

23

24

25

26

27

28

29

30

31
Jan - 2024
S
M
T
W
T
F
S

1

2

3

4

5

6

7

8

9

10

11

12

13

14

15

16

17

18

19

20

21

22

23

24

25

26

27

28

29

30

31
Feb - 2024
S
M
T
W
T
F
S

1

2

3

4

5

6

7

8

9

10

11

12

13

14

15

16

17

18

19

20

21

22

23

24

25

26

27

28

29
Mar - 2024
S
M
T
W
T
F
S

1

2

3

4

5

6

7

8

9

10

11

12

13

14

15

16

17

18

19

20

21

22

23

24

25

26

27

28

29

30

31
Apr - 2024
S
M
T
W
T
F
S

1

2

3

4

5

6

7

8

9

10

11

12

13

14

15

16

17

18

19

20

21

22

23

24

25

26

27

28

29

30
May - 2024
S
M
T
W
T
F
S

1

2

3

4

5

6

7

8

9

10

11

12

13

14

15

16

17

18

19

20

21

22

23

24

25

26

27

28

29

30

31
Floor Plan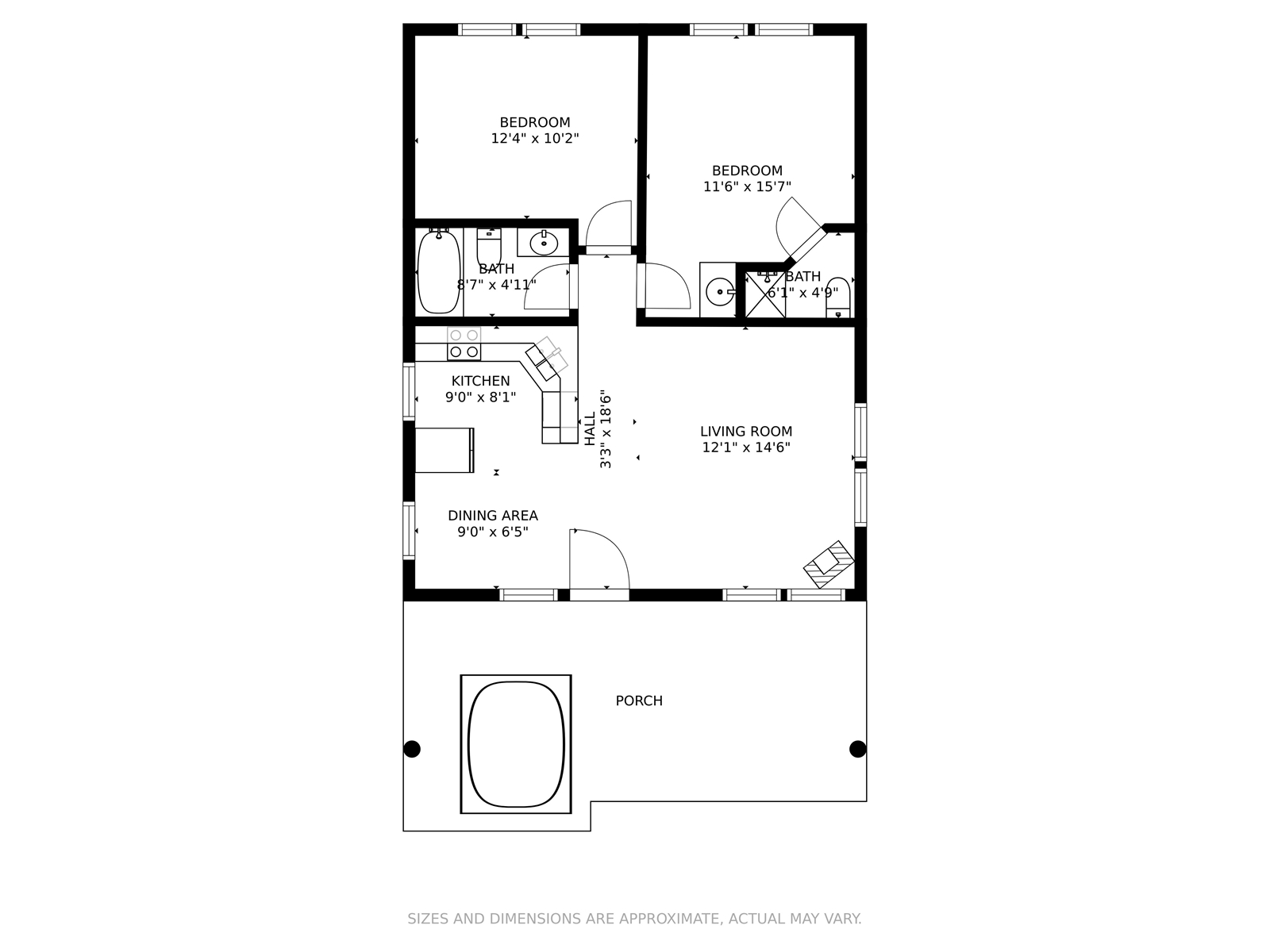 Reviews
Page: 2 of 3
Property
When we go to Big Sky, we always book with Chris and Acra Samuels. Their properties are in great locations slope side, well maintained and always clean and comfortable. If there is any issue, they are 15 minutes away. Their communication before, during, and after the rental is the best. We wont rent from anyone else.
Property
Cutest mountain home for ski vacation! We loved this cute ski in ski out cabin. It was the perfect size for 4 adults.
Property
Great slope side Big Sky Cabin! Perfect getaway. Easy access to slope. Comfy bed! Great hosts. Very responsive to anything we needed. Much appreciated!
Property
Cant ask for more! If you are thinking of getting a ski in ski out cabin in Big Sky this place was perfect . The location and views were amazing, we skied back to the cabin for lunch each day. Just can't say enough positives about the property. Highly recommend this rental.
Property
Amazing property! We had the most relaxing time at this property. Beautiful views, tucked away from the commotion of Big Sky. Would definitely stay again!
Property
We had a lovely time and would definitely recommend this place. We would definitely rent this place again or another cottage in the same area. It was perfect for two adults, and an infants or young child. Everything was as described. The view was spectacular.
Property
The perfect mountain getaway! My wife and I thoroughly enjoyed our stay! The hot tub was a welcome retreat after hiking each day. The cabin was cozy and well-appointed. It was close enough to town but isolated enough to be quiet and serene. We'll be back!
Property
Honeymoon! It was amazing.
Property
Great cabin, beautiful views! We enjoyed our stay. Great cabin for family of 4.
Property
Cowboy Heaven, Moonlight Basin! Had a super stay in the Samuels cabin. Kitchen is perfectly stocked with cooking equipment and even has very high quality knives, a first for me in rental experiences. We will be back.
Property
Great Cabin for a Summer Getaway! Very nice and clean cabin. Very comfortable for our family of 3 and easily for more. Well appointed updated kitchen with all the necessities to cook meals. Great views from the front deck with bbq and hot tub. Enjoyed the easy access to summer mountain trails just down the street and the peacefulness of this location in the summer. Highly recommend for a summer getaway to the mountains.
Property
Best ski in ski out ever! This was best ski in ski out rental we have ever been to. Just step off the porch and ski off. The views are awesome also, even from the spa. It is also nice that you can park next to the cabin so loading and unloading is a snap. I will say though, if it snows, you may need a 4x4 to get to the cabin. Its half way up the moutain!
Property
Awesome property at an awesome mountain! Couldnt have asked for more! Incredible ski-on/ski-off property with very chill vibe. Oh, and the theres a hot tub out the front door. Need I say more...
Property
Primo Ski In/Out! If youre skiing, this is the cabin for you! The cabin is cozy and the views from the hot tub are outstanding!
Property
Excellent rental......Great location. Would rather stay here than the central Mtn Village. Cabin is about 20 yds away from Powder River run, then Iron Horse lift from there. Or take a slightly longer walk to Cinnabar run, to start the day on Six Shooter lift. We were able to be on first chair at 9 every day, and it was easy to come in for lunch. We rented a Suburu from Explore Rentals near airport. It handled the steep snowy Moonlight area roads without any problem. Town area and groceries are 15 minutes down the mountain from cabin. Property has all necessary amenities, and kitchen is well stocked with dishes, cookware, and modern appliances. 3 large HD TVs with satellite service. Hot tub is great. Plenty of room for a family of 4. Owners are very responsive and helpful.
Property
Great location, cabin, host, and experience! This was our first time to big sky and Acra and Chris made it great. They went above and beyond to help us and make our experience and stay as stress free as possible. They were also quick to reply to all of our questions and even provided discounts on rental gear. The cabin was very clean and as described. It is a ski in ski out as described - located on the powder river run. The shuttle does stop nearby, probably a 10-15 minute walk depending on pace and conditions. The view is beautiful. Hot tub is a huge plus after long days on the mountain. Wifi and cable was free and included. Kitchen was stocked with everything we needed. More than enough clean towels, pillows, and linens were provided. Cant wait till our next winter in big sky. Top notch host and experience.
Property
Weve loved our stay here! Its our first visit to Big Sky (and Montana) so its been eye-opening and just spectacular here. And every single person we have encountered is so nice!!
Property
Thanks again for the helpful instructions and welcome basket at Cowboy Heaven. The place was perfect for our family, the views were incredible, and the close proximity to hiking trails and Big Sky Town Center were ideal. The hot tub was awesome to have - there was nothing better than sitting with a drink watching the sun go down around the mountains.
Property
Acra and Chris- We just left and want you to know we had a delightful time here in Big Sky and the cabin you shared with us was perfect!! We hope to back! God bless-
Property
The moment we walked into the cabin we felt cozy, warm, and comfortable. It was perfect for our family of 4 and our kids couldn't wait to get back to the cabin after long days out. The cabin and kitchenware were also sparkling clean, which I always appreciate. Little details like humidifiers in both bedrooms also helped make the stay more comfortable as Montana air can get dry. The views were spectacular and could be easily enjoyed while relaxing in the hot tub in the evening. The owners also leave wonderful, personalized references for restaurants, hiking, and activities to help you fully take advantage of all Big Sky has to offer. We had such a great time and can't wait to come back. Thank you!
Property
Spring break in Big Sky! My four people family enjoyed staying in the cabin. A little rustic and very cozy. Comfortable for our family. We found everything we needed. The best part, for us, was the ski in ski out location. It couldn't get any better. Thank you for having us
Property
Thank you so much for sharing your cabin with us! We had the most amazing time and immediately felt at home. We could not have asked for a better place to stay! It was an incredible vacation.
Property
Cozy. Warm. Beautiful. Warm. Cozy. More handsome than pictures easily allow. Spectacular views, particularly from the hot tub! Beds were very comfortable. The kitchen was well-appointed with all necessary essentials and then some. The cabin had a very good stock of basic supplies (which many rental units lack). Thoughtful and generous welcome basket greeted us upon arrival. The ski-in/ski-out situation: 30 feet to the end of the drive, which is plowed often, and onto the fringe of Powder River run. Depending on snowfall and the overnight grooming pattern, there can be a few yards of deep powder to contend with. We very much enjoyed our time there and highly recommend it.
Property
Thank you for the wonderful stay at Cowboy Heaven - 3 Duster. The location can't be beat and views were spectacular. Exactly what we were looking for, private, quiet, cozy, ski in/ski out. The property was clean and well stocked. The bed was comfortable and we really liked the fireplace heat control. We also enjoyed having the hot tub right outside the front door. We look forward to our next visit to Big Sky!
Property
Thank you. We had a great time. Everything was wonderful. Cabin was nice and clean and we enjoyed all of the amenities. Thank you for the welcome basket as well. It was a great experience and I would certainly recommend you guys!