Description
Rare FIND - Directly ON the POWDER RIVER Ski Slope!! There is no better location for your winter or summer stay in Big Sky/Moonlight Basin/Yellowstone Country than "The Outlaw" ski-in/ski-out Cowboy Heaven Cabin ON THE SLOPES. You will literally put your skis on at the door of this amazing 2 bedroom/ 2 bathroom slopeside cabin and ski-in/ski-out to all of Big Sky Resort via the Iron Horse lift or Pony Express lift. This cabin sits on the Powder River ski trail (beginner/intermediate trail) providing the BEST ski-in/ski-out in the Rocky Mountains, along with numerous amenities including premium wifi, DirecTV, Smart TV's, private outdoor hot tub on the porch, Bose bluetooth speaker, NFL Sunday ticket, and much more.

Relax in your private outdoor hot tub with a glass of wine or beverage of your choice as you watch skiers ski past you in envy as you take in the MOST BEAUTIFUL vistas in all of Big Sky. With views of Lone Peak, the Big Sky Valley, Andesite Mountain, and the Spanish Peaks, you will experience the feeling of staying "on top of the world."

This private cabin on the slopes has 2 bedrooms and 2 full bathrooms. Bedroom 1 has a king bed, private bath, and TV and bedroom 2 has 2 XL twin beds and a TV. In the living room, there is a gas fireplace and large Smart TV and Bose bluetooth speaker + VIEWs, VIEWs, and more VIEWs. Drive right up to your door, as there is parking for up to 2 vehicles just outside your cabin.

- NFL Sunday Ticket Included with Direct TV package

* The Moonlight Club/ Moonlight Lodge is private and permanently closed to all rental guests.

** Big Sky Resort officially opens each year for the winter and snow skiing season on Thanksgiving Day. Please note, this property is ski-in/ski-out via the Iron Horse and Pony Express lifts from mid-December to mid-April. Those 2 lifts typically open the 2nd weekend in December and close in mid-April. All lift operations are snow dependent and operated completely at Big Sky Resort's discretion. If the Pony Express and Iron Horse lifts are not running for any reason during your stay, you can either take the free local shuttle from Saddle Ridge or drive to/from the Big Sky Mountain Village to ski, which is less than 2 miles away.
More Amenities
Beds | Baths:
Sleeps 4 in beds
Bedroom 1- King bed | private bath, large walk-in shower | flat screen TV | main level
Bedroom 2- 2 XL Twin beds | flat screen TV | main level
Full Bath off of Hallway | tub/shower

Sheets and Towels Provided
* Extra towels under all bathroom sinks
_______________________________________________________________________________________________________
Kitchen | Dining:
Granite Counters
Stainless Steel Appliances
Ice Maker
Toaster
Hand mixer
Crock pot
Roasting pan
Cookware/Bakeware
Salt and pepper
All kitchen utensils
Dining table seats 4
_______________________________________________________________________________________________________
Living Room:
Gas Stove (controlled by thermostat on wall)
55 inch Smart TV
Bose Bluetooth Speaker
_______________________________________________________________________________________________________
Supplies provided in cabin:
Kitchen bags
Dishwasher tabs
Dish liquid
Coffee filters (coffee not provided)
Sponge (1 new)
Toilet paper (3 rolls per bathroom)
Paper towels (3 rolls)
Tissue
Laundry detergent
Dryer sheets
Bath soap
_______________________________________________________________________________________________________
Additional Amenities:
Sled for afternoon fun in the winter
Fans and humidifiers in each bedroom
_______________________________________________________________________________________________________
Outdoor Features:
Private hot tub 4+ person- on front porch with views of Lone Peak, ski slopes and valley
Large Front porch with outdoor seating
Propane grill with piped in propane
_______________________________________________________________________________________________________
House Rules:
No smoking permitted
No pets permitted
_______________________________________________________________________________________________________
Other options available upon request:
Pack n play
Highchair/booster seat
Calendar
Oct - 2023
S
M
T
W
T
F
S

1

2

3

4

5

6

7

8

9

10

11

12

13

14

15

16

17

18

19

20

21

22

23

24

25

26

27

28

29

30

31
Nov - 2023
S
M
T
W
T
F
S

1

2

3

4

5

6

7

8

9

10

11

12

13

14

15

16

17

18

19

20

21

22

23

24

25

26

27

28

29

30
Dec - 2023
S
M
T
W
T
F
S

1

2

3

4

5

6

7

8

9

10

11

12

13

14

15

16

17

18

19

20

21

22

23

24

25

26

27

28

29

30

31
Jan - 2024
S
M
T
W
T
F
S

1

2

3

4

5

6

7

8

9

10

11

12

13

14

15

16

17

18

19

20

21

22

23

24

25

26

27

28

29

30

31
Feb - 2024
S
M
T
W
T
F
S

1

2

3

4

5

6

7

8

9

10

11

12

13

14

15

16

17

18

19

20

21

22

23

24

25

26

27

28

29
Mar - 2024
S
M
T
W
T
F
S

1

2

3

4

5

6

7

8

9

10

11

12

13

14

15

16

17

18

19

20

21

22

23

24

25

26

27

28

29

30

31
Apr - 2024
S
M
T
W
T
F
S

1

2

3

4

5

6

7

8

9

10

11

12

13

14

15

16

17

18

19

20

21

22

23

24

25

26

27

28

29

30
May - 2024
S
M
T
W
T
F
S

1

2

3

4

5

6

7

8

9

10

11

12

13

14

15

16

17

18

19

20

21

22

23

24

25

26

27

28

29

30

31
Floor Plan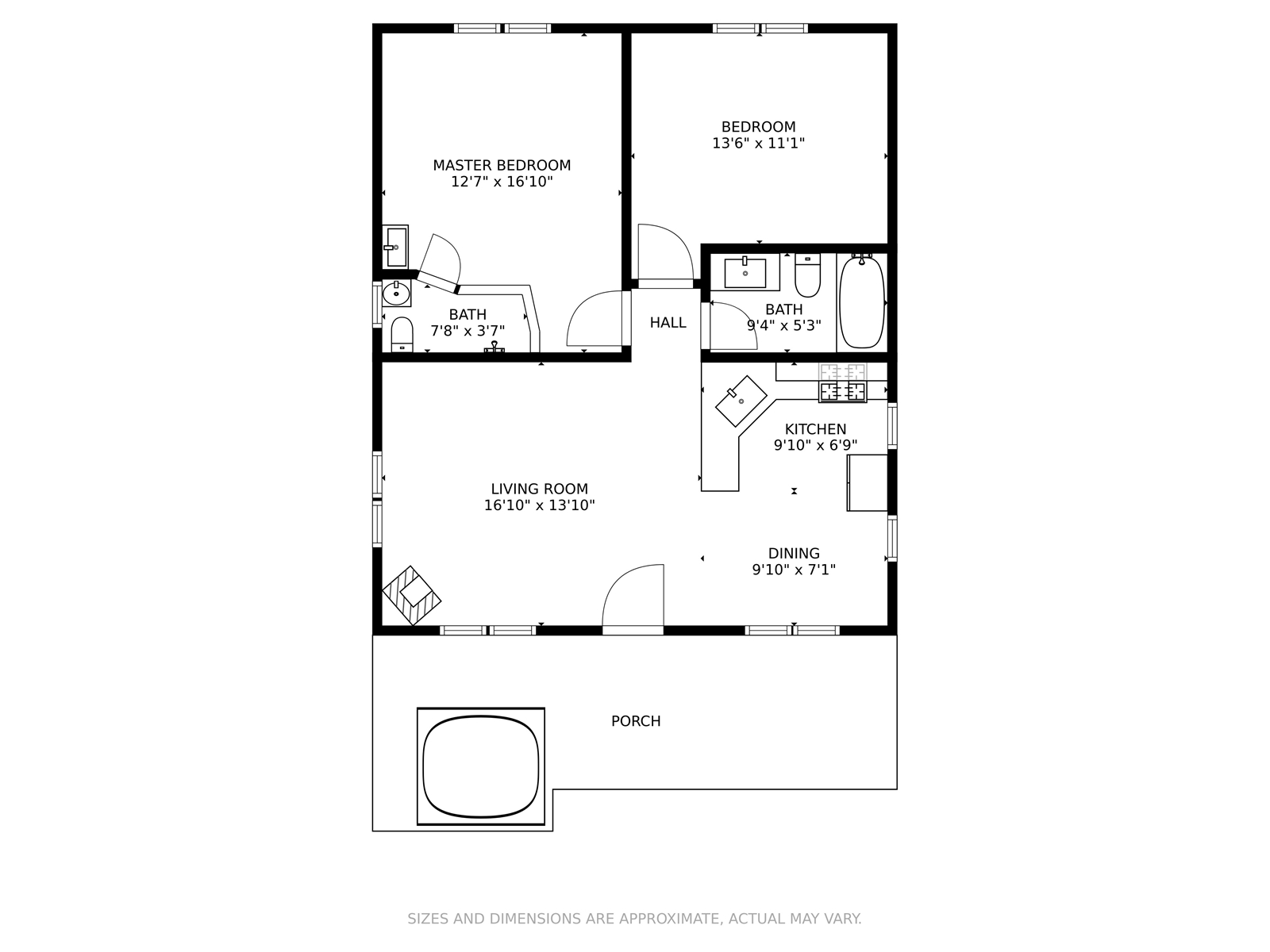 Reviews
Page: 1 of 4
Property
AMAZING - This property is absolutely AMAZING!!! The sunrises and sunsets are breathtaking!!! Master bed is super comfy- loved all the extra blankets. Everything you need is provided. We even had an adorable little fox come up every morning and evening. We had the BEST time- wonderful way to celebrate our 25th anniversary, We want to come back in the winter. Thank you again for sharing you beautiful place with us.
Property
Mountain Retreat! We had a great stay. Very relaxing and amazing views. Hot tub was great. Loved the place.
Property
Excellent! Best location, awesome trip.
Property
Daughter - Dad Paradise! My daughter and I stayed here for a few nights for a daughter father, spring break getaway. If the snow is good, you will need four-wheel-drive to get here, but once hear access to the mountain could not be easier. Walk out the door, put your skis on and go. The cabin is serene. Communications and check in, check out could not be easier.
Property
This is perfect for ski and out! Slopeside and last cabin on the road so first cabin slope side! Easy check-in/out process.
Property
Thank you for everything! Weve had a great visit and the location of the cabin has been fantastic!
Property
Incredible!! I cant say enough good things about this rental. The ski-in and ski-out was flawless. The location on the mountain is excellent. A very cozy cabin with a fireplace. So relaxing to wake up and sip coffee with gorgeous views of the mountains. Big sky is our favorite resort weve been to.
Property
Cowboy heaven was awesome! clean, super comfy beds and squishy soft blankets, loved them. Tons of towels, kitchen well stocked. Never heard snow cats grooming, quiet. Someone kindly cleared the snow from porch each day, as it snowed each day :) if we come back to big sky would definitely rent again!
Property
Big sky mountain cabin! Property was as advertised. Awesome location. Nice owners. Well appointed cabin with a nice hot tub. A great vacation
Property
Perfect Ski in/out Location! We loved this little cabin. It was perfect for our needs and the location for skiing can't be beat! Everything we needed was provided including a thoughtful welcome basket. The snow plows came by early in the evening so we were not awakened like other ski in/out locations which was a huge plus. The only thing we wished we had was a garage but it would not prevent us from staying here again!
Property
Big Sky Wonderland! "The Outlaw" cabin was simply magical in its location (ski in/out) and the amazing valley views from its porch and jacuzzi! Simply breathtaking! The cabin had everything that could possibly be needed, and its layout and amenities were fantastic! I will definitely return! We loved it!
Property
Cabin in the sky! We loved the morning sunrise and evening sunsets. We saw a bear, fox, and dear from the front porch. We enjoyed the hot tub and cooking out. A picnic table or a better dining table outside would have been helpful. The kitchen was well equipped and beds very comfortable. Great memories!
Property
Perfect getaway! We traveled to Montana as a family last week. The cabin was spectacular. The location was superb. Convenient to restaurants and shops, but also private and quiet. It was truly the best of all worlds. My kids loved the space and were comfortable and at home immediately upon arrival. We would absolutely recommend this location to anyone staying in the Big Sky area. We would love to return for a ski trip in the winter!
Property
I'm sorry I haven't responded sooner-as usual, when returning from a great vacation I came home to a lot of catch up work! Just wanted to let you know we had an outstanding time and were very pleased with the accommodations. The cabin was a perfect size for our family of four and very comfortably and tastefully decorated-we felt immediately at home.
Property
Amazing Experience! The cabin/property is exactly as represented. It was clean and comfortable. The view is amazing! We use VRBO frequently, and this was one of the best stocked kitches we've ever had. The cabin was a perfect central location for visiting Yellowstone, the Tetons, and enjoying Big Sky. The communication with the owners was excpetional and much appreciated since Yellowstone closed due to flooding one week before our trip. I cannot say enough positive things about the property! I highly recommend it!
Property
Just wanted to thank you for being responsive to our needs, accommodating while making our reservations and and your hospitality. We had a fantastic stay... LOVED our convenient location and the cozy cabin. Well-equipped kitchen, bathrooms. Thank you for all the hooks to hang wet towels and clothing! Plenty of towels! Comfortable beds
Property
We had a great time in The Outlaw this week. What a beautiful cabin! We are looking forward to when we can book a repeat visit for February 2023.
Property
Our stay was amazing and the cabin was perfect. We're already thinking about coming back again, and will definitely reach out for future rentals!
Property
Heavenly Views! The cabin itself was nothing but amazing. The views from the cabin were even more amazing. Everything was exactly what we hoped and we will definitely be going back again.
Property
Thank you for letting us stay in your cabin! The hospitality was fabulous and we will definitely be back!! Thanks again! Big Sky is beautiful!!
Property
Seriously Amazing Location! We stayed in the Outlaw Cabin at Cowboy Heaven for a week at the end of July. I'll try not to spend too many words to say what so many other reviewers have said so well, but this property/location is really amazing! The scenery absolutely cannot be beat, waking up to views of Lone Peak from both bedrooms and expansive views of the Spanish Peaks from the deck and the hot tub. The cabin was well appointed and very comfortable and cozy. The ice maker is a bonus for cold beverages in the summer and the variety and good condition of cookware was appreciated, and not always a given with vacation rentals. We appreciated the washer and dryer also, as we like to travel light with only carry-on luggage when possible. The attention to detail and cleanliness of the property along with the great communication from Acra made for a very enjoyable and effortless week in Big Sky. This cabin is literally right on the ski trails so ski-in ski-out is an understatement probably, more like roll out of bed, open the door and you're on the ski trail. We plan to come back in winter sometime, but for summer, the nearby hiking and relaxing afterwards in the hot tub (very clean by the way) could not be beat. Thank you to Acra and Saddle Ridge Rentals for a great week!
Property
Fantastic cabin! My family really enjoyed this cabin. We stayed in June and loved the view and location. We hiked directly from the cabin and enjoyed waking up every morning to the sunrise over the mountains. We have two small children (under 6) and they loved the hot tub and how easy it was to explore outside near the cabin. We highly recommend this cabin.
Property
Great for couples or a family! We had a great time. Wonderful views, great unit. Well appointed and awesome location. Close to so many summer activities. 4 of us including 9yr old son and 13 yr old daughter. We grilled out a few nights and went to dinner in town others. Loved the hot tub!
Property
Amazing Views! Excellent cabin with amazing views! Exactly as described with everything you need to make meals and enjoy your vacation. We used the hot tub every night after long days of hiking in Yellowstone and it was phenomenal! Acra was very responsive with pre-arrival emails, so I knew we'd be able to communicate if we ever needed anything. Everything was as advertised, so we didn't need anything while we were there. Plus, Acra and Chris provided us with complimentary starter coffee, snacks, koozies, etc. Very nice touch! Stocked with basic spices and cooking oils. All the cutlery, pots and pans you could possibly need. Check-in and out instructions were easy to follow and not much to it at all. The king size bed was very comfortable! The views were better than what we thought. This one is on the end of the road, so you have some added space. I get a little apprehensive about most hot tubs at rental properties, but this one is well maintained. Not only do they drain and clean it after each guest, they also leave chlorinating granules to use with very good instructions. We made the absolute right choice on staying at this cabin. We highly recommend!
Property
Thanks! We had a wonderful time, the Outlaw cabin was perfect for our group of 2 adults and 2 teens. The kitchen was well-equipped, the cabin was clean and cozy, and Acra was super responsive. We absolutely loved the ski in, ski out convenience. Highly recommend and would definitely stay there again.