Description
Best Views in Big Sky!! The Shooting Star Cowboy Heaven Cabin sits high above the rest with breathtaking panoramic views and unbeatable ski-in/ski-out directly to the Powder River ski slope at Big Sky Resort. This Cowboy Heaven Cabin offers some of the best ski access in the Rocky Mountains, while also offering incredible mountain modern elegance throughout. With a gas firepit and private outdoor hot tub on your front porch ... summer or winter, you will never want to leave!

The Shooting Star Cowboy Heaven Cabin has been newly updated with modern and elegant amenities, that create a fantastic mix of mountain modern and western décor throughout. The large open living area provides the perfect spot for gathering, with a modern kitchen loaded with all your cooking needs, a luxurious and cozy living room with gas fireplace/stove, and open dining area for card games and unforgettable family dinners. Every window offers jaw dropping mountain views.

At the end of the day, this is the perfect spot for you and your crew to lay your heads, relive your day's adventures in Big Sky or Yellowstone, and dream of making new memories tomorrow. The master suite has a king bed, private bath, and Smart TV, and bedroom 2 has a twin over queen bunk bed and Smart TV + full bath on the hallway. Plush and comfortable bedding will envelop you with each passing moment.

Whether you are exploring Yellowstone or chasing wild adventures in the warm summer months in Big Sky or looking for a one-of-a-kind ski-in/ski-out rustic, yet luxurious experience, this Cowboy Heaven Cabin in Moonlight Basin promises an authentic Big Sky Montana vacation in cowboy style!

* The Moonlight Club/ Moonlight Lodge is private and permanently closed to all rental guests.

** Big Sky Resort officially opens each year for the winter and snow skiing season on Thanksgiving Day. Please note, this property is ski-in/ski-out via the Iron Horse and Pony Express lifts from mid-December to mid-April. Those 2 lifts typically open the 2nd weekend in December and close in mid-April. All lift operations are snow dependent and operated completely at Big Sky Resort's discretion. If the Pony Express and Iron Horse lifts are not running for any reason during your stay, you can either take the free local shuttle from Saddle Ridge or drive to/from the Big Sky Mountain Village to ski, which is less than 2 miles away.
More Amenities
Beds | Baths:
Sleeps 5 in beds
Bedroom 1- King bed | Smart TV | private bath with shower | main level
Bedroom 2 - Bunk beds (twin over queen) | Smart TV | main level
Full Bath off of Hallway | tub/shower

Sheets and Towels Provided
* Extra towels under all bathroom sinks
_______________________________________________________________________________________________________
Kitchen | Dining:
Stainless Steel Appliances
Ice Maker
Toaster
Hand mixer
Crock pot
Roasting pan
Cookware/Bakeware
Salt and pepper
All kitchen utensils
Dining table seats 4+
_______________________________________________________________________________________________________
Living Room:
Gas Stove (controlled by thermostat on wall)
50 inch Smart TV
Bluetooth Speaker
_______________________________________________________________________________________________________
Supplies provided in cabin:
Kitchen bags
Dishwasher tabs
Dish liquid
Coffee filters (coffee not provided)
Sponge (1 new)
Toilet paper (3 rolls per bathroom)
Paper towels (3 rolls)
Tissue
Laundry detergent
Dryer sheets
Bath soap
_______________________________________________________________________________________________________
Additional Amenities:
Sleds for afternoon fun in the winter
Fans and humidifiers in each bedroom
_______________________________________________________________________________________________________
Outdoor Features:
Private hot tub 4+ person- on front porch with views of Spanish Peaks Mountain Range, ski slopes and valley
Large Front porch with outdoor seating + gas firepit
Propane grill with propane provided
_______________________________________________________________________________________________________
House Rules:
No smoking permitted
No pets permitted
_______________________________________________________________________________________________________
Other options available upon request:
Pack n play
Highchair/booster seat
Calendar
Oct - 2023
S
M
T
W
T
F
S

1

2

3

4

5

6

7

8

9

10

11

12

13

14

15

16

17

18

19

20

21

22

23

24

25

26

27

28

29

30

31
Nov - 2023
S
M
T
W
T
F
S

1

2

3

4

5

6

7

8

9

10

11

12

13

14

15

16

17

18

19

20

21

22

23

24

25

26

27

28

29

30
Dec - 2023
S
M
T
W
T
F
S

1

2

3

4

5

6

7

8

9

10

11

12

13

14

15

16

17

18

19

20

21

22

23

24

25

26

27

28

29

30

31
Jan - 2024
S
M
T
W
T
F
S

1

2

3

4

5

6

7

8

9

10

11

12

13

14

15

16

17

18

19

20

21

22

23

24

25

26

27

28

29

30

31
Feb - 2024
S
M
T
W
T
F
S

1

2

3

4

5

6

7

8

9

10

11

12

13

14

15

16

17

18

19

20

21

22

23

24

25

26

27

28

29
Mar - 2024
S
M
T
W
T
F
S

1

2

3

4

5

6

7

8

9

10

11

12

13

14

15

16

17

18

19

20

21

22

23

24

25

26

27

28

29

30

31
Apr - 2024
S
M
T
W
T
F
S

1

2

3

4

5

6

7

8

9

10

11

12

13

14

15

16

17

18

19

20

21

22

23

24

25

26

27

28

29

30
May - 2024
S
M
T
W
T
F
S

1

2

3

4

5

6

7

8

9

10

11

12

13

14

15

16

17

18

19

20

21

22

23

24

25

26

27

28

29

30

31
Floor Plan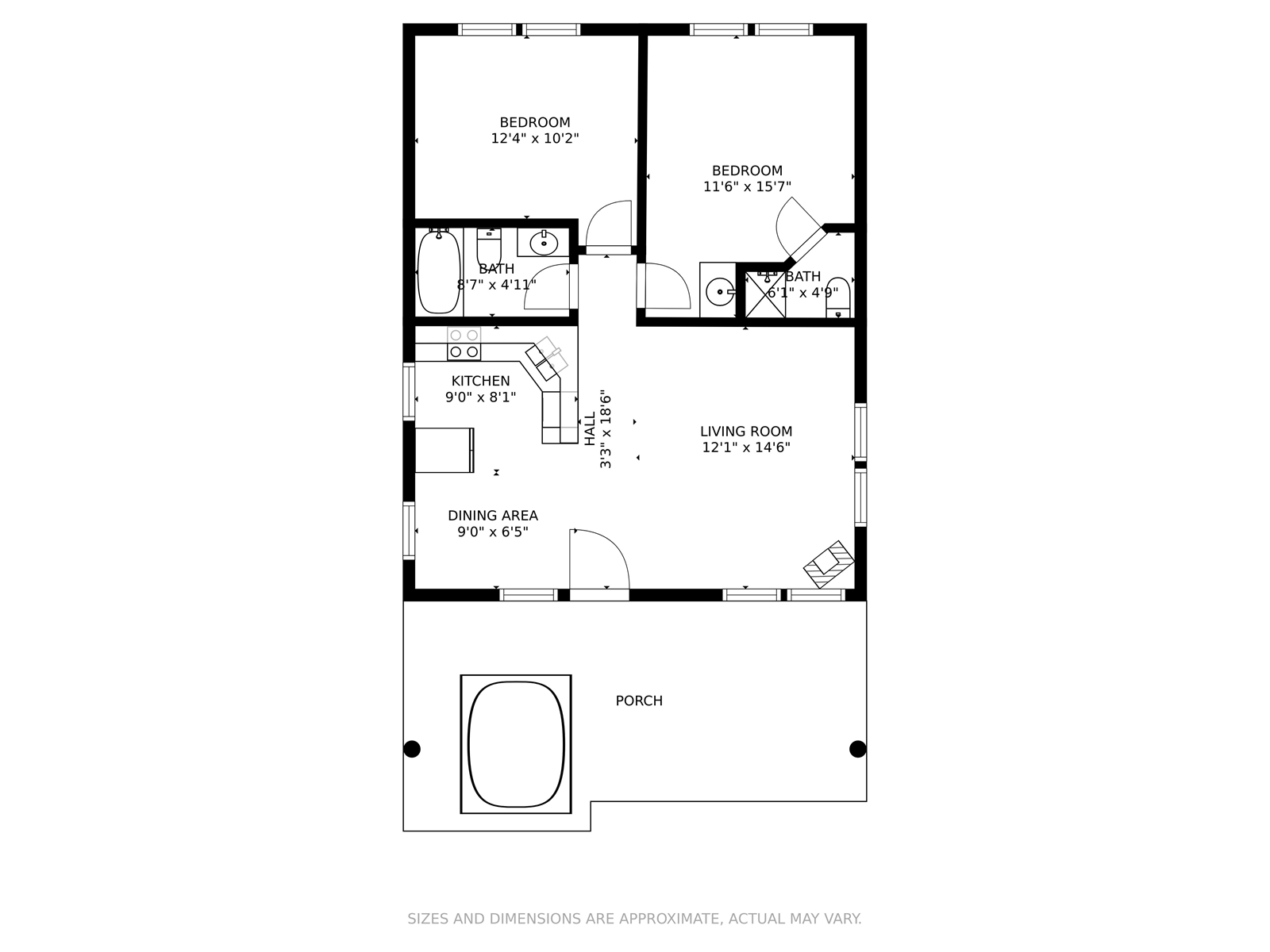 Reviews
Page: 1 of 2
Property
The cabin and the view was absolutely wonderful! The kitchen had everything we needed and more! The hot tub and fire pit was a nice way to relax. The host was very responsive with any questions.
Property
Thank you for allowing us to stay at the Moonlight Basin in your lovely cabin! We had a wonderful time! The amazing views of Big Sky and the serenity of the place is extraordinary!
Property
Wondeful Experience! Cabin (and the view) was just as advertised. Fantastic experience.
Property
Best Location in Big Sky! The property was amazing, the view was all you needed to enjoy the trip! Big Sky is amazing, Moonlight Basin is the best location!
Property
Best view in Big Sky! My husband and I had a relaxing stay here. The cabin was perfect for our stay- it was clean and cozy, and the view was unbeatable. We cant wait to come back!
Property
We were a bit surprised at the location - right at the top of Big Skybut wow! The views were incredible. Lovely to sit in the hot tub and gaze out at the mountains and listen to the birds. The cabin itself is very cozy, very clean, beds comfortable. We had everything we needed. The kids loved playing the Wii, we liked grilling out and the big table to have a few meals to save some money in super expensive Big Sky. We had a wonderful time and would definitely stay here again.
Property
Great place! Views are top notch, very nice place and very good host. Would stay again.
Property
We absolutely loved our stay at Shooting Star this past week. It was the perfect house in the perfect location, and I just left a VRBO review stating all the reasons we loved it that I hope youll be able to see. We will definitely be looking to stay there again next time and will contact you directly in the future.
Property
Winter getaway! This cabin was great for 2 couples. Having ski in and ski off was easy and very accessible. Beautifull views. Would rent again.
Property
Wonderful place and awesome vacation! Thank you!
Property
I wanted to thank you so much for a wonderful trip! We had such amazing family time! The cabin is perfect! Thanks again..and Blessings from Alabama, Sandra and Daryl
Property
Heavenly Experience! We were so excited to get to Big Sky and be able to stay in a cabin on the slopes. Everything was perfect. The views were spectacular, the hot tub was a great way to relax and get the chill out of your bones and the cabin was cozy and inviting. We could not have asked for anything more. We are already talking about returning next year.
Property
We just wanted to thank you for the great experience we had staying at your cabin. We are headed out and think we took care of everything. We hope to see you again . Big Sky is amazing.
Property
Great home! Perfect location. Home was fabulous. Communication great. Illl be back !
Property
summary: great property and location and views
Property
Great family cabin at Cowboy Heaven! This cabin is fantastic - has everything we needed and about as cozy as it gets!. Incredible ski access and a great hot tub for end of day relaxing. Acra and the management team are world class - responsive and helpful in many ways. Definitely take their strong advice to ensure 4x4/awd car rental in the winter (key for any Big Sky property as we saw many 2wd rental cars have problems).
Property
We sure enjoyed our time here. We hope to bring our kids back to ski one day! Thanks so much for your help and hospitality. Have a wonderful holiday season!
Property
Perfect! This cabin was perfect. Personally think it has the best view on the Mountain.
Property
We had a great time. The cabin was just wonderful. It was so well equipped and everything worked. We really enjoyed the welcome basket and information packet. My wife and I were very impressed. We already recommended Big Sky and your organization to our children should they decide to ski Montana when their infant son is ready to travel.
Property
September Vacation- Great location and house. Exactly as described. Definitely would stay again.
Property
We had an amazing time and loved the cabin.
Property
We had a such great stay! The cabin was so cozy, and equipped with absolutely everything we needed. The beds were comfy, the view fantastic, and the cabin was clean as can be. We would definitely book with you again!
Property
Beautiful contemporary cabin with amazing Mountain View! We chose this cabin based on its upper location to the other cabins, the hot tub, the fire table, and because it was more contemporary than most with bunkbeds for our kids. This cabin was fully stocked, the beds were comfortable, and our kids especially loved the Nintendo Wii. The owners responded quickly and were very attentive and gave us great detailed recommendations for events in the area along with restaurants, and other great local offerings. A welcome basket was a nice added touch too. The only thing we would have appreciated was a closet to hang up clothes and a full length mirror. We really enjoyed our stay!
Property
Fantastic! What a wonderful place to stay. Location cannot be beat!
Property
Great stay! Great location for ski-in/out for a family of 4. I would stay here again!